Concha: Like Presidents and Politicians, LeBron Proving Legacy Trumps Everything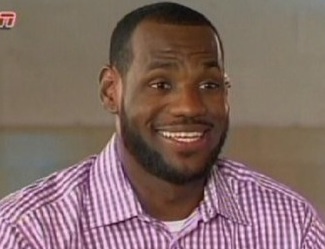 So LeBron is a Cleveland Cavalier again. From a journalism perspective, here's one intro to this story you'll be hearing in bulk (if you haven't a few times already):
"By returning to his hometown, LeBron James shows you can go home again."
And if recent cable news debates are any indication, you know it's only a matter of time (the Vegas over/under is currently at 4.5 hours) that someone on the left or right will use The King's Decision 2.0 to somehow make an ideological argument (Update: Whoops…too late! The under wins again). We see it now with the World Cup. We see it with the Redskins controversy. No topic is safe from becoming a red-blue shouting match.
But for the sake of this column, let's focus on the media aspect of the next phase of arguably the most popular athlete in the country (and with respect to Lionel Messi, on the planet).
1) Location isn't everything: LeBron returning to Cleveland (19th-largest media market) shows that big cities don't have any advantage anymore on the marketing front. Living near New York, I hear the argument often that an athlete can increase his/her brand awareness and value by playing in a big city (NYC, Los Angeles, Chicago, Boston, SF, etc.). And that used to be true, pre-internet and pre-social media. In 2014, the size of a media market no longer matters to the modern professional athlete.
Examples? The second-most popular player in the NBA plays in Oklahoma City (Kevin Durant, 44th-largest TV market). The biggest name in the NFL once played in Indianapolis (25th) and now sits in Denver (18th) in the form of Peyton Manning. According to Forbes, the NHL's most popular player is Sidney Crosby (Pittsburgh, 23rd-largest). If jersey sales numbers are any indication (which just came out yesterday), the Yankees' Derek Jeter is the lone exception (sales ranked #1). Then again, that ranking may be due to his impending and slightly-overhyped retirement.
Either way, LeBron could play in Toronto or Memphis or in Jeter's New York… it wouldn't affect his earnings and endorsement opportunities one bit. The ability to be ubiquitous and on the radar can be done from anywhere, anytime. Just ask Sarah Palin…
2) Legacies matter more: With big-name contracts easily eclipsing $100 million, the Bud Fox questions to Gordon Gekko in the original Wall Street truly do apply: "How many yachts can you waterski behind? How much is enough??"
So with money no longer a concern, guys like LeBron are into the whole how-am-I-going-to-remembered thing. Need proof? Just ask the aforementioned Peyton. Or Tony Romo. Hell, even ask President Obama or Bush 43 or Bill Clinton. The L-Word is all the rage these days.
That said, James knows that the only two ways he could have a truly magical legacy is to:
(A) Win seven championships and eclipse Michael Jordan's six (mind you, Michael was 6-for-6 in the NBA Finals, while LeBron is currently 2-for-5). Ultimately, seven LeBron rings are seen as a longshot.
(B) Win just one championship for Cleveland, the most cursed sports city in America (with respect to Buffalo). Yup… that's it. Win the city's first title in 50 years (the Browns won the NFL championship in 1964, which predates the creation of the friggin' Super Bowl), and you'll forever be the biggest professional sports legend in the history of Ohio, even bigger than Pedro Cerrano (an outfielder/slugger for a fictional Indians playoff team played perfectly by Dennis Haysbert…who later became President David Palmer on Fox's 24).
Remember, LeBron's jersey was burned in effigy in the streets of C-Town when he took his talents to South Beach four years ago. All is forgiven now IF he can show that God doesn't really hate Cleveland by bringing the Larry O'Brien trophy to northeastern Ohio.
For the richest one percent of the richest one percent in sports, money ain't a big deal anymore. It's an easy thing to dismiss when having so much of it.
What also doesn't matter is where one plays from a TV market or media perspective.
Instead, it's all about championships. Winning. What will be written on a tombstone…
There was once a (spectacularly bad) movie starring Doctor J called The Fish Who Saved Pittsburgh.
Now we'll see if LeBron James can not only go home again, but be the big fish who saves Cleveland.
[Image via Screengrab]
— —
Follow Joe Concha on Twitter @JoeConchaTV
Have a tip we should know? tips@mediaite.com