WSJ's Peggy Noonan Explains How 'Normal People' Are Freaking Out Over Border Crisis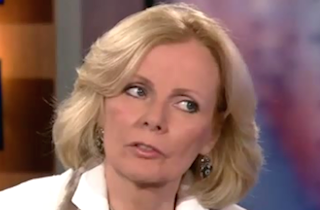 Peggy Noonan has a new Wall Street Journal column that attempts to tackle the crisis at America's border with Mexico from the perspective of "normal people." Unfortunately, she does not define what exactly that means.
After describing the horrific conditions at the detention centers that hold unaccompanied children, Noonan writes, "All this gives normal people a feeling of besiegement and foreboding. Is a nation without borders a nation?"
As Salon's Jim Newell points out in his critique of Noonan's column, the question Noonan asks recalls a line Sarah Palin used in her call for President Barack Obama's impeachment earlier this week ("Without borders, there is no nation."). But while Palin was making the false claim that Obama ordered border patrol to stand down, Noonan is referencing the children who were detained at the border and are awaiting either some form of asylum or deportation.
Noonan does not see the president or Congress treating to issue with the proper level of alarm, but does identify two groups that are: the detained children, who are appropriately traumatized and "normal Americans," who are "seeing all this on TV and who judge they are witnessing a level of lawlessness that has terrible implications for the country."
She sums up how she thinks "normal people" are experiencing the situation on the border:
It's like you live in a house that's falling apart. The roof needs to be patched and there are squirrels in the attic, a hornet's nest in the eaves. The basement's wet. The walkway to the front door is cracked with grass growing through it. The old boiler is making funny sounds. On top of that it's always on your mind that you could lose your job tomorrow and must live within strict confines so you can meet the mortgage and pay the electric bill. You can't keep the place up and you're equal parts anxious, ashamed and angry. And then one morning you look outside and see . . . all these people standing on your property, looking at you, making some mute demand. Little children looking lost—no one's taking care of them. Older ones settling in the garage, or working a window to the cellar. You call the cops. At first they don't come. Then they come and shout through a bull horn and take some of the kids and put them in a shelter a few blocks away. But more kids keep coming! You call your alderman and he says there's nothing he can do. Then he says wait, we're going to pass a bill and get more money to handle the crisis. You ask, "Does that mean the kids will go home?" He says no, but it may make things feel more orderly. You call the local TV station and they come do a report on your stoop and then they're gone, because really, what can they do, and after a few days it's getting to be an old story.

No one's in charge! No one is taking responsibility. No one who wants to help has authority, and no one with authority is helping.
In the end, Noonan seems to blame both Republicans and Democrats, but mostly Obama for the crisis. "The little children in great danger, holding hands, staring blankly ahead, are pawns in a larger game. That game is run by adults," she writes. "How cold do you have to be to use children in this way?"
[Photo via screengrab]
— —
>> Follow Matt Wilstein (@TheMattWilstein) on Twitter
Have a tip we should know? [email protected]