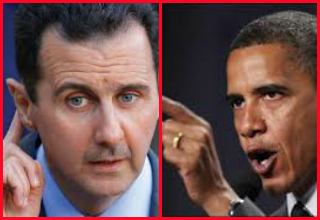 It's the cold question asked in national newsrooms across the country:
Will Syria…rate?
And…
Will it rate in the (25-54-year-old) demo?
In a related story, cable news had what one would describe as a tough month (and that's being kind).
MSNBC—a network built solely around elections—has lost over 30 percent of its 2012 audience. Rachel Maddow–the network's biggest star–is down 47 percent. FOX still led the way by large margins, but is seeing a decline in audience also. CNN was the only network to make gains from last year, but it still hasn't been enough to finish just behind MSNBC in the race for silver after beating its peacock rival every month this year since April. HLN—without George Zimmerman and Jodi Arias to propel them to unprecedented heights—fell back to 4th.
Why the struggles in various forms across the board? For starters, hurricanes (or even the threat of them) usually help cable networks survive the dog days of August. But it's been a quiet month on the weather front. As for politics, no elections this year means no conventions. And as for big stories, there's been no breaking news on a large scale outside of that whole Ben Affleck-as-the-next-Batman thing.
Before we go on, a disclaimer: I get that people will die when more bombs start dropping on Syria. I also completely understand that hurricanes can also be deadly and devastating (says the guy who had Sandy enter his apartment in Hoboken and has friends and family who lost homes at the Jersey Shore). But working in a newsroom is like being a doctor in the ER: employees in both are witness (through a monitor or in-person, respectively) to suffering and death, real and assumed. Unfortunately, it's all just business when trying to get a job done. Despite what you may see on The Newsroom, emotions are left at the door when it comes to discussing what works and what doesn't in drawing an audience.
That said, when I'm discussing Syria's potential ratings (which is based primarily on death and injury tolls, heated political rhetoric, and fear of retaliation via terrorism, etc.) and not the human horrors and tragedy that accompany any conflict of this scale, it's simply about sharing perspective around the media's role and the business drivers behind it. If you want political commentary or a general perspective on war itself, you've come to the wrong column.
Anyway, war can be very good for business, but it all depends on two things: timing and logistics. For example, the first Gulf War (1991) came at a time when America had basically been at peace since Vietnam. For lack of a better word (for some) a perverse hunger was mounting again to see war play out on our television screens. Enter Saddam's invasion of Kuwait, followed by images of hundreds of thousands of U.S. troops preparing to go to war.
Hussein even played the role of Don King, calling it before the first shot was fired, "The Mother of All Battles." Of course, like a Tyson fight in his prime, it ended shortly after it began…but not before CNN catapulted itself as a major player in the news industry (after being the only network able to broadcast from Baghdad when the bombs starting falling). If you haven't seen Live From Baghdad with Michael Keaton, make an effort to, like, soon…
So that's an example of the perfect (again, relative term) kind of war to cover: Anticipation built, interviews with U.S. troops about to go into harm's way to add a personal element, a villain from central casting in Saddam, and an appetite for destruction by a majority of the American public. The 2003 version was also a big ratings winner, not only for CNN, but every network covering it.
On the flipside, an imperfect kind of war (on TV) is the kind the U.S. kinda-declared against Libya last year…a pseudo-war at best. No ground troops, lots of stealth Air Force and drone missions, an over-the-hill, cheesy 80s villain in Gaddafi, and zero appetite for destruction from the American public after over years of war in Afghanistan and Iraq.
Looking at a preview of the showdown with Syria, we're obviously looking at Libya 2.0 in terms of engagement. After all, we've already declared that our attacks will be likely limited in nature, according to official sources on the inside. We've even been reportedly kind enough to share what will be targeted and where ahead of time (for whatever reason, the Syrian Electronic Army is not on the list). No matter…Assad and his thugs will never know what hit 'em.
Regardless, the stakes are considerably higher than Libya when considering the position U.S. action puts Israel in via Iran/Hezbollah retaliation. This could get messy…
Yet despite all of this, many Americans are still largely apathetic about the upcoming fight. Granted, if Miley Cyrus landed a new reality show that is scheduled to take place in a supercool loft in Damascus starting next week, well, that's a whole other ball of wax when it comes to the ratings game. Just an educated guess, but when it comes to the Middle East, most (at least 85 percent) Americans couldn't pick out Syria on a map. More (say, 88 percent) couldn't name its President. Almost all–and this includes members of the House and Senate––couldn't even tell you who exactly is battling the Syrian government in this civil war and what a post-Assad government would even look like.
But besides that, it's all good.
War used to be a boon for the TV news business.
But with the 2013 version of war being waged from the sky under the cover of darkness…
And when dealing with civil wars where the enemy may exist on both sides of the fight (in Syria's case, Assad vs rebels aligned with Al Qaeda)…
And when considering the rules of demand and supply (the American viewing audience demands it, the media therefore supplies it), Syria is too complex, too unrelated to daily life and pop culture, to really force most people to put down their phone or get off that social media site for more than 20 seconds.
In the end, let's just say an abbreviated war with Syria isn't going to come close to the true ratings juggernauts who ruled this summer:
Zimmerman and Cyrus.
—-
Follow Joe Concha on Twitter @ConchSports
Have a tip we should know? [email protected]
---