Congresswoman Calls Police After Receiving Threats For Anti-Tea Party Comments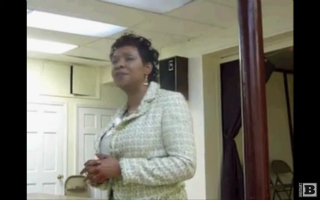 Rep. Yvette Clark (D-NY) called and notified Capitol Police of threatening phone calls she claims to have received after video of her making anti-Tea Party statements surfaced this week on a variety of conservative websites.
The video, initially posted by Breitbart TV, shows excerpts of Clark speaking before the Prospect Heights Democrats for Reform, decrying the Tea Party movement as "crazy" and "threatening":
When I first encountered the Tea Party, I thought "Oh, these people are crazy." You know, and you would hear everyone say, "Oh, they're crazy!" But you know what? Crazy showed up. And not only did crazy show up, but crazy elected 39 other members to the House of Representatives, and took a lot of people out. So, you know, oftentimes things may look a little bit benign, and what I'm finding — particularly at the federal level now — is that if something seems threatening, most likely it is.
Rep. Clark, in a press release, claims her words were taken out of context, and defends her controversial remarks:
I was referring to the effectiveness of how the Tea Party organized and made their voices heard. I also discussed how some members of the Tea Party spat on certain members of congress and made racial and bigoted remarks. These actions were indeed seen as 'crazy' to many people and they showed the 'ugliest side of the United States of America.' While I do not believe all Tea Party members subscribe to the thinking that resulted in these incidents, the bad actions of a few affected the reputation of the organization.
She goes on to say that the phone threats will not deter her:
I stand by my statement and I will not be intimidated by those who use fear to make their point known. While I appreciate the calls from individuals who respectfully disagree with my remarks, we all have a responsibility to ensure that we change the dangerous discourse that can come from this hostile political environment.
Check out the video in question below, via Breitbart TV:
Have a tip we should know? tips@mediaite.com