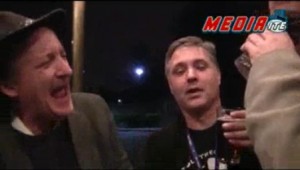 A few months ago, popular conservative blogger Robert Stacy McCain earned the ire of a broad cross-section of the blogosphere (including this commentator) with his assertion that withdrawal of consent was "unadulterated nonsense," saying, "You buy the ticket, you take the ride."
After a few walkbacks, and some Twitter combat, McCain and I reprised the debate Wednesday night at CPAC.
The outrage stemmed from McCain's critique of a piece by Feministe blogger Jill Filipovic, in which she uses the Julian Assange case as a starting point for a discussion about withdrawal of consent. McCain bolds the portions of Filipovic's post that he finds to be "unadulterated nonsense," isolated here:
If you consent to sex but then at some point during sex withdraw that consent by telling your partner to stop, your partner should stop, and if your partner doesn't stop then that's assault. . . .

…Consenting to one kind of sexual act doesn't mean that you consent to anything else your partner wants to do;
As simple as that sounds, McCain sees a mid-intercourse cry of "STOP!" as the basis for complex "negotiations," and papers over his disturbing premise with cutesy euphemisms for sex:
In an era when some 40% of U.S. births are to unmarried women, in a culture where "Girls Gone Wild" and "hook-ups" are normative, where threesomes, bisexual experimentation and amateur video-porn orgies have become a virtual rite of passage for many young Americans, where chlamydia and herpes are pandemic — in this era of rampant sexual decadence, I say, does Jill Filipovic (J.D., NYU) seriously expect horny strangers to negotiate consent calmly on an act-by-act basis while they're knocking boots, making the beast with two backs, in flagrante delicto?

Listen up, sweetheart: You buy the ticket, you take the ride.
One thing you can say for McCain, he's definitely cutting edge, rolling out this controversy weeks before the now-infamous Keith Olbermann/Michael Moore-fueled #MooreAndMe protest.
We feuded pretty hard about this on Twitter, so I wasn't sure how our reunion at CPAC would go. The most interesting stuff at CPAC always occurs on the drink-lubricated margins, and this was no exception. I caught up with McCain (or he caught up with me) outside the Marriott Wardman, and we hashed it out. Here's a short clip of McCain's apology, in  which he specifically apologizes to Jill Filipovic::
In the interest of not taking McCain out of context, here's the entirety of our interview, also featuring commentary and camera work by Angel Fleming of Fleming and Hayes. (There's a little bit of NSFW language in there)
As you can see from this clip, McCain still holds many opinions that I find objectionable, but I also think that it places the "character" that is RS McCain into a context that simply reading him does not.
Have a tip we should know? tips@mediaite.com