Conservative Journalist Renews 'Together We Thrive' Tucson Memorial T-Shirt Controversy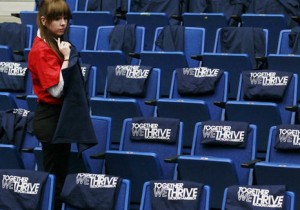 Pat Dollard, a contributing journalist to Andrew Breitbart's "Big" websites, reported via his Twitter feed that the University of Arizona had told him that the White House was involved in creating t-shirts with the slogan "Together We Thrive" for the Tucson Memorial in January. Both the White House and the U of A denied this in January, but in light of this fresh allegation, I decided to check with White House Press Secretary Jay Carney at Tuesday's briefing.

The t-shirt "controversy" was part of an effort to charge the Obama administration with politicizing January's memorial for the victims of the mass shooting in Tucson, but most of the allegations involved were quickly debunked. One such claim, that the White House was involved in creating and/or distributing the shirts, was refuted by University of Arizona spokesperson Jennifer Fitzenberger and The White House at the time:
A senior administration official confirmed the widely-reported fact that the administration had nothing to do with the shirts.

University of Arizona spokesperson Jennifer Fitzenberger told me that the shirts were, indeed, provided by the University. "The University wanted to give people something to remember that symbolized community spirit and continued the event's positive energy into the future," she said.

According to Fitzenberger, the shirts were designed by a University of Arizona student, and they cost about $60,000. "The University will pay for them," she noted. "No tuition, state allocations, tax dollars or student fees will be used."
On Tuesday morning, however, Pat Dollard reopened the case, tweeting the following:
@tommyxtopher Why also did you report that a U of A student wrote "Together, We Thrive"?. Your own UofA source denied telling U that, to me.

@tommyxtopher No, no one has debunked it. The University told me that the slogan came from conference calls with the WH & internal meetings.
I asked Dollard to verify that his source was, indeed, Jennifer Fitzenberger, to which he replied:
@tommyxtopher Yeah, it was a broad, and she said that you were the one she spoke to. Jennifer sounds right, don't have those notes with me.
Dollard hasn't published his article yet, but I thought it would be a good, collegial gesture to double-check with White House Press Secretary Jay Carney at Tuesday's briefing, since I was there anyway:
Press Secretary Jay Carney later indicated that he had nothing to add to the statement made in January.
I also emailed Ms. Fitzenberger and her boss, Assistant Vice President for Communications Johnny Cruz, for comment on Dollard's allegation. I asked, "Do you stand by the denial? Do you have any comment about this allegation? Were there any such conference calls with the White House?"
Mr. Cruz responded: (via email to Ms' Fitzenberger and me)
The name and logo for the event were developed entirely by the University of Arizona. Branding for the event was not developed in consultation with any elected officials or political organizations.
So far, that makes two White House officials, and two University of Arizona officials, who confirm the provenance of the memorial shirts, but Mr. Dollard promises to keep on digging, and for what it's worth, I was happy to help.
Have a tip we should know? tips@mediaite.com