Conservative Mormons Will Hold Day Of Fasting And Prayer In Preparation For Obama-Romney Debate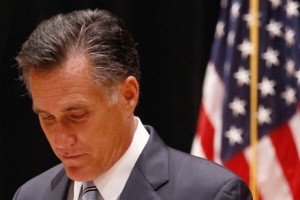 The first presidential debate is a week away, and Mitt Romney supporters are hoping the Republican candidate comes out of it with a decisive victory. An e-mail obtained by BuzzFeed suggests that conservative Mormons are trying to organize a day of fasting this coming Sunday to give their prayers and show their support for Romney to score a win over President Obama.
RELATED: Harry Reid: Mitt Romney Has 'Sullied' The Mormon Faith
The identity of the e-mails author remains secret, but according to BuzzFeed it was forwarded by other members of the Church of Latter-Day Saints, some very enthusiastic about the idea and others less so.
Here's a portion of the e-mail.
I have been extremely frustrated with how things are going in our country. A lot of my frustration is because I don't know what to do to really make a change. Well, this time I do. I am asking you to join me and my family on Sunday Sept. 30 by fasting and praying for Mitt Romney. That he will be blessed inthe debates, which will be held starting Oct. 3rd. I know that seems like such a small thing but I believe "from small things, great things can come about". I know that fasting and praying brings about miracles. I also know of no power greater than our Father in Heaven.
The fasting for Romney will take place next Sunday, leading up to the first presidential debate on October 3.
[Image via]
h/t BuzzFeed
—–
Follow Josh Feldman on Twitter: @feldmaniac
Have a tip we should know? tips@mediaite.com
Josh Feldman - Senior Editor