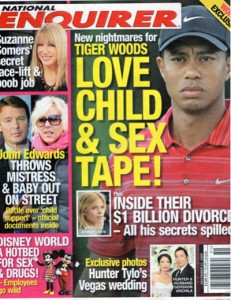 The Daily Beast's Chief Investigative Reporter Gerald Posner, "award-winning author of 10 investigative nonfiction bestsellers, on topics ranging from political assassinations, to Nazi war criminals, to 9/11, to terrorism," just got the exclusive gossip scoop on what really went down with Tiger that fateful Thanksgiving Eve.
According to Posner's two sources–both close to Elin Nordegren, Tiger's wife–Tiger learned of the initial National Enquirer story before it went to print. So he was all "I'm going to put my wife and my mistress and the phone together," and Rachel Uchitel (mistress) was all "Go for it." So then she gets on the phone with Nordegren and spends 30 minutes convincing her they're just friends, all, you know, "We totally haven't even kissed," but then of course Nordegren got suspicious, so she sent fake text messages via Tiger's phone to Uchitel and then called her, and then Uchitel was all "Oh f–ck."
And then the school bell rang, everyone put their phones away and went to class.
Posner's article reads more like a gossip rag than a serious piece of traditional investigative journalism, and in doing so he gives National Enquirer Executive Editor Barry Levine some of the "vindication" he so desires.
For years the Enquirer has been producing what readers regard as "tabloid fluff," but in the last few months, they've broken two enormous celebrity scandals–Tiger and John Edwards, newly appointed baby daddy. The Edwards scandal had huge political implications, "rocked the campaign to its core," as Mark Halperin and John Heilemann note in their political expose Game Change. Isn't that what investigative journalism is supposed to do? Hold government and public figures accountable?
Come Pulitzer time, Levine wants to make sure the public doesn't forget that these scoops came from the Enquirer. And I have to agree– somewhere along the way, the tabloid seems to have gotten pretty good.
Have a tip we should know? tips@mediaite.com