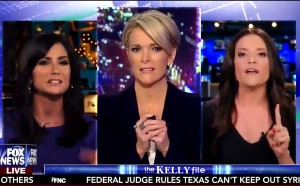 In a heated discussion over gun control on The Kelly File Thursday night, Dana Loesch said that any attempt to regulate the AR-15 was tantamount to a "war on women."
Loesch, a conservative gun rights activist and author of Hands Off My Gun, and Nomiki Konst were summoned to weigh in on the debate over whether there was any sense at all to gun-free zones. Konst argued that the proverbial "good guy with a gun," if not adequately trained, was actually a liability in mass shooting situations.
Konst said "it's not about 'giving us your gun,'" using Megyn Kelly's phrase, "it's about expanded background checks –"
"Yes it is," Loesch interrupted.
"No, it's not, Dana. No one's saying –" and the conversation devolved into incoherence from there.
When Kelly asked Loesch why the AR-15 — a popular semi-automatic rifle widely discussed in the wake of the Orlando attack — needed to be in civilian hands, Loesch countered that, "This is a war on women because the AR-15 is the most popular weapon with women."
"Oh, come on, Dana!" Konst responded. "You're talking about –" and once again the argument exploded until Kelly cut both of them off and ended the segment.
The weapons used in the Orlando attack were a Sig Sauer MCX rifle and a Glock 17 9mm pistol, both purchased legally. Neither is an AR-15, though the Washington Post's Thomas Gibbons-Neff explains that "while the weapon is different, the MCX and the AR-15 share the same design purpose: providing a highly portable, customizable, easy to operate and accurate rifle for the individual who possesses it."
Have a tip we should know? tips@mediaite.com