Don Lemon Snaps at Trump Supporter: 'The Media Is Not Trying to Make this About Guns!'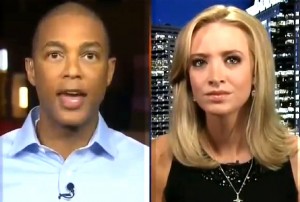 CNN's Don Lemon snapped at Trump supporter Kayleigh McEnany for accusing the media of shifting focus away from radical Islamic terrorism and toward guns.
After reading McEnany a ruling from PolitiFact, which said Trump had falsely represented Hillary Clinton's record on guns, McEnany deflected by blaming the media for "being desperate" to make the discussion following the Orlando terrorist attack about guns and not about Islam.
Lemon, reporting from Orlando, snapped: "No the media's not trying to make this about guns. It's not, it's not," he said.
"Yes, they are!" she responded.
RELATED: The Media Meme: Blame GOP for Orlando While Turning Sole Focus to Gun Control
"Kayleigh, it is not trying to make this about guns," Lemon said. "I am speaking for the family members who I have been sitting down with since Sunday, who are upset. Some are Republicans, some are Democrats, some are independents. All of them say they believe in the Second Amendment. But they're tired of this partisan bickering […] about the Second Amendment. Donald Trump says at every turn that Hillary Clinton wants to abolish the Second Amendment. And if that is a lie, then we are obligated to point it out. It is not true, and you should not go on national television and say that it's true when it is not. That is who is making this a partisan thing, bringing it up, it's Donald Trump, it's not the media."
McEnany defended Trump's position on guns and still demanded to know why there weren't more segments on cable news talking about Islamic extremism. She said talking about guns "was an injustice to the families."
"No one is ignoring extremism," Lemon countered. "Our whole show is about Islamic extremism."
Co-panelist Maria Cardona said, "This is exactly why we cant have a sensible conversation. Even when confronted with facts, Trump and his supporters ignore them as if they don't exist."
Have a tip we should know? tips@mediaite.com