Dave Chappelle Calls Trump the 'Most Gangsta Candidate Ever,' Slams Hillary as 'Not Right'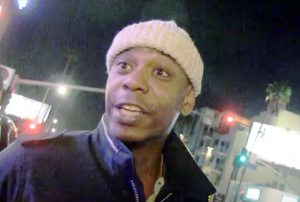 According to the New York Observer, a paper owned by Donald Trump's son-in-law, legendary comedian Dave Chappelle took a number of shots at Democratic presidential nominee Hillary Clinton while expressing some sympathy for Trump.
In a 60-minute set in New York, roughly a week ahead of his much-anticipated Saturday Night Live hosting gig, Chappelle let the audience know that he had already voted for Clinton but didn't feel all that good about it.
He pointed out that he felt that the leaked Access Hollywood tape came from Hillary's camp and that while the comments by Trump were awful, it didn't constitute sexual assault.
He was particularly agitated about what he believes was Clinton's role in leaking a surreptitiously recorded conversation between Republican nominee Donald J. Trump and TV personality Billy Bush. "What I heard on that tape was gross," Chappelle said. "But the way I got to hear it was even more gross. You know that came directly from Hillary." He stated this had put him off a candidate he had already known was "not right." He likened voting for her to a hypothetical situation of actress Halle Berry breaking wind in his face during sexual relations. "I'm still going to go for it," he said. "But I wish she hadn't done that thing."

Chappelle further shocked the New York crowd by defending Trump. He took issue with the media stating as fact that Trump had admitted committing sexual assault in the recorded conversation. "Sexual assault? It wasn't. He said, 'And when you're a star, they let you do it.' That phrase implies consent. I just don't like the way the media twisted that whole thing. Nobody questioned it."
The Observer also noted that Chappelle said that Trump was the "most gangsta candidate ever" due to how he dealt with the second debate and questions about the system being rigged. In Chappelle's estimation, Trump knows it's rigged because he is a member and might as well "flashed his membership card to the Illuminati" at that time.
This isn't the first time Chappelle has raised eyebrows regarding remarks about Trump. Last month, he described the GOP candidate as "white Malcolm X" and how he had a real choice because Trump may lower his taxes.
[image via screengrab]
–
Follow Justin Baragona on Twitter: @justinbaragona
Have a tip we should know? tips@mediaite.com