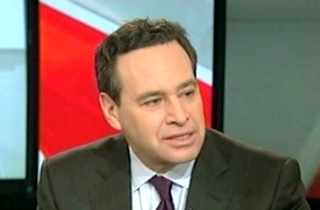 Atlantic senior editor David Frum is certainly no fan on the Iran nuclear deal, but credit to him for finding an upside (for him): he thinks it neutralizes Senator and 2016 GOP candidate Rand Paul (R-KY).
Paul has bedeviled the hawk wing of the GOP with his non-interventionist stances, driving hawkish figures like Representative Peter King (R-NY) and Senator (and 2016 rival) Lindsey Graham (R-SC) to distraction.
But conventional wisdom has it that Paul's shtick works a lot better when framed as keeping an aggressive government in check (as in the NSA debate) than when the news cycle is full of dangerous and unpredictable foes — i.e., when you're talking about a Russia-allied Iran developing a nuclear weapon, non-interventionism isn't so appealing. And if you believe, as Team Neocon does, that the Obama administration's deal only further ensures an Iran nuclear program, then that leaves Paul with no good options.
RELATED: Graham: Nuclear Deal Will Inaugurate 'Decade of Chaos'
"Paul will either find himself isolated with the old Ron Paul constituency — or he'll have to find some nimble way to jump to the 'anti' side of the Iran deal," Frum wrote Tuesday. "If he opts for the latter approach, however, he becomes just another Republican voice among many competing to voice their opposition, and one less powerful and credible than, for example, Ted Cruz will be."
Not for nothing, but the contentious segment with Savannah Guthrie — which branded Paul as having a problem with female interviewers — turned nasty over Paul's Iran position.
[h/t Atlantic]
[Image via screengrab]
——
>> Follow Evan McMurry (@evanmcmurry) on Twitter
Have a tip we should know? [email protected]