'Decency Wins': Twitter Explodes With Joy After Doug Jones Defeats Roy Moore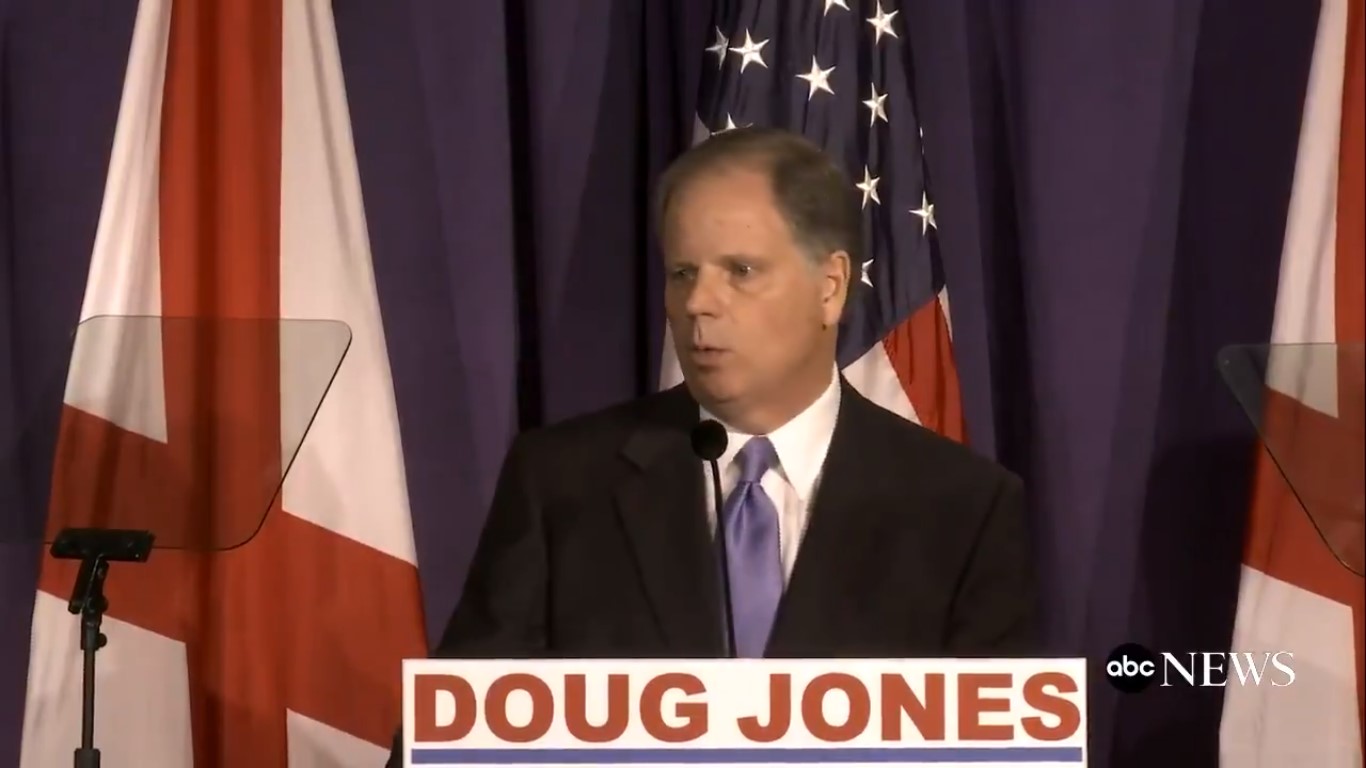 After Democrat Doug Jones managed to upset GOP Senate candidate and alleged child molester Roy Moore, Twitter erupted with relief as the wild Alabama special election finally came to an end tonight.
While Republicans, including President Donald Trump, had handily won the notoriously red state in recent years, Jones was able to become the first Democrat to win an Alabama Senate seat in a quarter century. The win shrunk the Republican Senate majority by one seat, leaving their lead at only 51.
Notable pundits, politicians, and journalists responded to the conclusion of the crazy Senate race — that included numerous sexual child predator allegations, references to "Jew" attorneys, and calls for banning "homosexual conduct" — with tweets of joy at Jones' victory and snarky posts railing against Trump, the RNC, and other Moore supporters:
Decency wins

— Jeff Flake (@JeffFlake) December 13, 2017
The women who shared their stories about Roy Moore with my colleagues at @washingtonpost are incredibly brave. I hope they feel safe and vindicated tonight.

— Alyssa Rosenberg (@AlyssaRosenberg) December 13, 2017
Luther Strange would have won in a landslide… Just too much crazy in nerve racking times. There IS a limit! pic.twitter.com/vketz7G1OR

— MATT DRUDGE (@DRUDGE) December 13, 2017
I hope no one forgets how much work it took to barely edge out a child molester.

— Sophia Benoit (@1followernodad) December 13, 2017
anytime anyone writes about someone who endorsed roy moore, it should be illegal not to include the descriptor "supported a child molester for the senate and lost"

— Ashley Feinberg (@ashleyfeinberg) December 13, 2017
Roy Moore wasn't defeated by the Democratic Party leadership (or even just the media), he was defeated by a huge surge from black working-class voters. All kidding aside, this is great news.

— Bhaskar Sunkara (@sunraysunray) December 13, 2017
ADDITIONALLY: EAT SHIT, YOU VILE HUMAN CARBUNCLE STEVE BANNON

— Lauren Duca (@laurenduca) December 13, 2017
Roy Moore better find himself a good Jewish recount lawyer

— Nathaniel Meyersohn (@nmeyersohn) December 13, 2017
Win or lose, Roy Moore still looks like a dingus riding that horse

— John Hendrickson (@JohnGHendy) December 13, 2017
This is the worst thing to happen to Roy Moore since mall security confiscated his shoe cameras

— Pixelated Ho Ho Hoat (@pixelatedboat) December 13, 2017
Tonight is why you run real candidates even in races you don't think you can win. Democrats were lucky that Roy Moore's past spilled out into the open. But they only won because Doug Jones was good.

— Ezra Klein (@ezraklein) December 13, 2017
Before we get the results, I'd just like to thank Steve Bannon for showing us how to lose the reddest state in the union and Governor Ivey for the opportunity to make this national embarrassment a reality

— Josh Holmes (@HolmesJosh) December 13, 2017
BREAKING: Early exits show Moore hovering in the teens (Joke submitted by guy who wants to be anonymous)

— John Podhoretz (@jpodhoretz) December 12, 2017
Give? Donald? his? phone?

— Ashley Feinberg (@ashleyfeinberg) December 13, 2017
Roy Moore liked this night when it was much younger.

— Franklin Leonard (@franklinleonard) December 13, 2017
shoutout to the millions of alabama voters who went on record as supporting a pedophile and walked away with absolutely nothing. loling at you forever

— KT NELSON (@KrangTNelson) December 13, 2017
God don't like ugly.

— Don Lemon (@donlemon) December 13, 2017
1) MCConnell deserves a lot of the blame for Alabama. Mo Brooks would have won by 20% of the vote, and McConnell interference hurt badly. 2)Peter Strzok, Lisa Page text messages show how CORRUPT the SC Mueller and his team are. Wow! More tomorrow.

— Sean Hannity (@seanhannity) December 13, 2017
Suck it, Bannon

— Meghan McCain (@MeghanMcCain) December 13, 2017
Maybe you all should focus on electing statesmen, not fckucking culture warriors.

— Ruthless T. Firefly (@BecketAdams) December 13, 2017
Roy Moore stepping away from politics to spend more time with his wife and your kids.

— Tim Siedell (@badbanana) December 13, 2017
[image via screengrab]
Follow the author on Twitter (@calebecarma).
Have a tip we should know? tips@mediaite.com