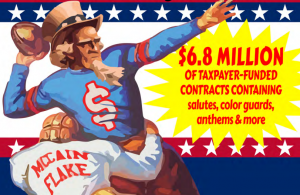 A new report by Republican Sens. John McCain and Jeff Flake tackles "paid patriotism" in professional sports, slamming teams that accept taxpayer funds "to sponsor a military appreciation game, or to recognize wounded warriors or returning troops."
In the report, McCain and Flake argue, "if the most compelling message about military service we can deliver to prospective recruits and influencers is the promise of game tickets, gifts, and player appearances, we need to rethink our approach to how we are inspiring qualified men and women to military service."
The report also notes that "while many professional sporting teams do include patriotic events as a pure display of national pride," there are plenty of examples where the Department of Defense is involved in the funding of those events.
"It is time to allow major sports teams' legitimate tributes to our soldiers to shine with national pride rather than being cast under the pallor of marketing gimmicks paid for by American taxpayers," the report reads.
At a press conference, Flake told reporters that it "cheapens the experience" to assume a patriotic display is "paid for out of the goodness of the heart by the owners and the teams," only to "find out the taxpayers are paying for it."
McCain said Americans don't think people need to be paid when they "honor the men and women who are serving and for their sacrifice."
"It's really not much more complicated than that," McCain argued.
The House will vote Thursday on a new National Defense Authorization Act; if the bill passes, it will prohibit the DOD from paying for these activities. NFL Commissioner Rodger Goodell said the organization will conduct an audit and reimburse the DOD for any inappropriate payments it finds.
[Image via]
—
>> Follow Elizabeth Preza on Twitter (@lizacisms)
Have a tip we should know? tips@mediaite.com