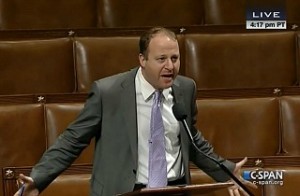 Democratic congressman Jared Polis engaged in some pretty strong political trolling of his Republican colleague Steve King over a bill he proposed dealing with gay marriage.
The Supreme Court is going to start hearing arguments next week on state gay marriage bans, and could very well rule all state bans unconstitutional. In response, King proposed a bill this week called The Restrain Judges on Marriage Act. The purpose of the legislation is to "prevent federal courts from hearing marriage cases, leaving the issue to the States where it properly belongs."
King argues that federal courts would overstep their constitutional bounds, but he also says he doesn't want the will of the people to be subverted.
Which brings us to Polis, an openly gay member of Congress, who today announced a bill titled The Restrain Steve King from Legislating Act. Here's the core of it:
"For too long, Steve King has overstepped his constitutionally nonexistent judicial authority," Polis said. "Mr. King has perverted the Constitution to create rights to things such as discrimination, bullying, and disparate treatment. These efforts to enshrine these appalling values as constitutional rights were not envisioned by the voters, or by King's colleagues who must currently try to restrain his attempts to single-handedly rewrite the nation's founding principles on a bill-by-bill basis.

"I urge the House to bring this bill to the floor. If passed, my bill would preserve the right of millions of voters in all 50 states who would prefer that Steve King refrain from legislating a role for himself in their marriage decisions."
There's still no word on whether King plans to announce a counter-measure, The Restrain Jared Polis from Trolling Act.
[h/t HuffPost]
[image via screengrab]
— —
Follow Josh Feldman on Twitter: @feldmaniac
Have a tip we should know? tips@mediaite.com
Josh Feldman - Senior Editor