Dept. of Energy Reportedly Refuses to Give Trump Names of Employees Working on Climate Change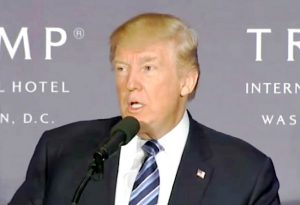 It was reported last week that President-elect Donald Trump's transition team had sent the Department of Energy a list of 74 questions. In that list, the DOE was asked to provide names of employees who had worked on President Barack Obama's climate change policy.
This action brought up concerns that the incoming POTUS and his administration may be looking to not only dismantle many of the actions Obama has set forth to study and combat climate change, but to also push out federal employees and contractors who had worked on those programs. Scientists have signed petitions to call on Trump to respect the integrity of science and not rid government agencies of researchers who are in disagreement with Trump's vision.
Well, it appears that the Department of Energy is fighting back on this request. According to the Washington Post, the department will not provide names to the transition team.
"The Department of Energy received significant feedback from our workforce throughout the department, including the National Labs, following the release of the transition team's questions. Some of the questions asked left many in our workforce unsettled," said Eben Burnham-Snyder, a department spokesman. "Our career workforce, including our contractors and employees at our labs, comprise the backbone of DOE (Department of Energy) and the important work our department does to benefit the American people. We are going to respect the professional and scientific integrity and independence of our employees at our labs and across our department.

"We will be forthcoming with all publically-available information with the transition team. We will not be providing any individual names to the transition team." Burnham-Snyder's email had the last sentence in boldface for emphasis.
This will likely come as some relief to Congressional Democrats who were not thrilled with the transition team's questionnaire. As the Post noted, Rep. Steny Hoyer (D-MD) and Rep. Elijah Cummings (D-MD) were both highly critical of Trump for doing this, calling it a "scare tactic" and it raises "serious concerns."
However, who knows how long this will last. Trump just recently tapped former Texas Governor Rick Perry as his Secretary of Energy. Back in 2011, Perry stated that he wanted to eliminate the department that he is now going to head. (Though he did have trouble actually naming the agency at a GOP presidential debate.)
[image via screengrab]
–
Follow Justin Baragona on Twitter: @justinbaragona
Have a tip we should know? tips@mediaite.com