Did Fox News Call Media Matters Bluff Over $1 Million GOP Donation Ad? (Update)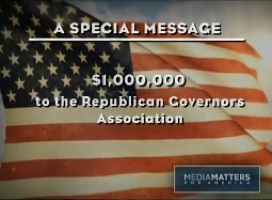 Rupert Murdoch's News Corporation, the parent company for Fox News, recently made a $1 million contribution to the Republican Governors Association, a partisan 527 designed to bolster GOP gubernatorial campaigns. Facing criticism, News Corp. responded by citing their support for the RGA's "pro-business agenda".
Progressive media watchdog group Media Matters responded by creating an ad critical of the donation, and requested airtime during The O'Reilly Factor on Fox News to broadcast the spot. But new allegations have come to light that question whether Media Matters was serious about running the ad as opposed to just generating attention – and possibly charitable donations – for itself.
On Tuesday, Greg Sargent reported, in the Washington Post's "Plum Line" blog, on their plans to run the anti-Fox News ad:
Media Matters, which has raised the torturing of Fox News to a high art, has come up with a new one: The group is trying to run an ad touting News Corporation's widely-reported $1 million contribution to the Republican Governors Association — on Fox, during Bill O'Reilly's show.

A Media Matters official sends over the ad, which you can watch below, and the spot coincides with a new front the group is opening against Fox: Media Matters and several other groups are about to call on the White House Correspondents Association to consider yanking Fox's front-row seat in the White House press room.

The idea behind the ad is that Fox News devoted little to no coverage at all to its parent company's $1 million donation, even though it was widely covered by many other news outlets and was widely pilloried by Dems as proof that Fox is a wholly owned subsidiary of the GOP. By running the ad during O'Reilly's show, Fox's most watched program, Media Matters hopes to bring to Fox viewers' attention what Fox News mostly wouldn't.
But a solicitation email from MMFA president Eric Burns, seeking donations to pay for the spot, appears to indicate that Media Matters doesn't or didn't have money allocated to pay for the ad, and that the request to air the anti-Fox News ad on Fox News may have been nothing more than a publicity stunt.
In an interview with Fox News Executive Vice President of Ad Sales Paul Rittenberg, tells Mediaite that, apart from some slight changes to the voiceover copy, FNC had (and still has) "every intention of running the ad, and still do, presuming some factual inaccuracies are edited." First, here is the 30-second spot:
Rittenberg told Mediaite that the network was, in fact, ready to run the Media Matters ad during The O'Reilly Factor, as had been requested by their D.C. area media buyer, under the condition that Media Matters edit the ad to FNC's own standards. Rittenberg says, "We were happy to run the ad and were planning to move forward, but we made the simple request that they change the opening voice over copy." Rittenberg continued "The spot that was originally submitted to us opened with 'And now, a special message from Fox News.' Not only is that incorrect, but no network would reasonably run an ad that falsely proclaims a statement that they never actually made."
Rittenberg further explained that there was a smaller, yet still significant, issue with the closing voiceover, which claimed that News Corp. had donated the money to "oppose Democratic Governors this Fall". Rittenberg said "Again, it was just a matter of being correct. We asked them to change it to 'Democratic candidates,' not 'Democratic Governors' as it was submitted," adding "we ask that all ads be as factually accurate as possible."
According to Rittenberg, Media Matters resubmitted a new version of the spot with corrected voiceover copy at the end of the spot, but the re-recorded voiceover that opened the ad was actually deemed less acceptable by Fox News' advertising standards. The opening VO no longer said "And now, a special message from Fox News," instead opening with "And now, a story that Fox News hosts doesn't want to talk about." Rittenberg concluded "no network that I know of would reasonably broadcast an ad that makes false claims about their on-air talent." Update – Media Matters tells Mediaite that the re-recorded introductory voiceover now says "And now a special message that Fox News prime time hosts refuse to tell you, brought to you by Media Matters for America."
The ad appears to be rejected in its current state, though Fox News says it still plans to run the spot if it can be brought up to their standards. At this point, though, it seems unlikely that Media Matters will amend the ad to FNC's standards. And in fairness, according to Rittenberg's account, common sense would dictate that no network would air a spot critical of their own prime time anchors, as the newer version is alleged to.
But was Media Matters really ever interested in buying ad time on The O'Reilly Factor — a relatively expensive proposition given the show's very high ratings? Or was this simply a more cost effective ruse designed to raise awareness of News Corp.'s $1 Million donation to the RGA and of Media Matters itself? (Of course it appears to have worked since we are doing this story.)
A recent email from Media Matters president Eric Burns, soliciting donations to pay for the ad, seems to support the argument that this may have been nothing more than a publicity stunt. Mediaite has obtained a copy of the email, which can be read below.
Rittenberg tells Mediaite that Fox News is still ready to run the ad, if Media Matters is willing to change a few words at the opening of the spot. But it appears that in the cat and mouse game between media outlet and and media watchdog, Fox News may be playing chess, while Media Matters is playing checkers.
Update – Media Matters Vice President of Research & Communications Ari Rabin-Havt tells Mediaite "We first learned about our ad being rejected on Mediaite. Media Matters has every intention of running this ad. We think it is vital for Fox News' viewers to know about News Corp.'s $1 million contribution to the Republican Governors Association."
From: Eric Burns, Media Matters for America
Sent: Monday, August 23, 2010 2:10 PM
To: XXXXXXXXXXXXXX
Subject: Your voice on Fox News

August 23, 2010

Dear XXXXXXXXX,

Last week we learned that News Corp., Fox News' corporate parent, gave $1 million to the Republican Governors' Association — a donation that a News Corp spokesman chalked up to the RGA's "pro-business agenda."

While other networks covered this unusual contribution extensively, Fox News only devoted 37 seconds of airtime to the story. Fox viewers have been left in the dark as to the network's direct involvement in races this fall.

Media Matters for America has decided to make sure Fox viewers are aware of News Corp.'s contributions. We are considering purchasing a national ad to air next week during The O'Reilly Factor to share this vital information with for viewers.

It will cost us approximately $35,000 to purchase the time. Will you help us?

In case you were still under the impression that Fox was a news network rather than a political operation, this donation should eliminate all doubt. The fact is, Fox is first and foremost a campaign arm of the Republican Party, and this seven-figure investment in Republican campaigns is just a part of the round-the-clock support they have given all year.

Click here to watch the ad — and donate to help us put it on the air during Fox's The O'Reilly Factor.

Thanks again for your support.

Eric Burns
President,
Media Matters for America

© 2010 Media Matters for America
Have a tip we should know? [email protected]