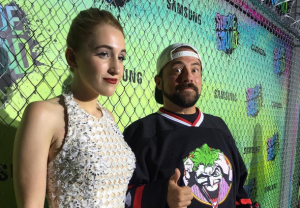 Online harassment is nothing new, especially for women. Megyn Kelly knows it. Leslie Jones knows it. Gabby Douglas knows it. As disgusting as it is that they've had to put up with the misogynistic comments thrown into their inboxes and Twitter mentions, they are adult, professional women who have had the resources to move forward.
When it comes to teenagers, online harassment is somehow even more intolerable. That's why director Kevin Smith refused to tolerate hate spewed at his young daughter, Harley Quinn Smith and posted the following screenshot and caption to his Instagram account a day ago:
The screenshot is of something that was said to his 17-year-old daughter.
Although he slammed the troll publicly, Smith mostly took the high road:
Troll: if you hate me (or my kid) this much, the better use of your time is to make YOUR dreams come true, instead of slamming others for doing the same. The best revenge is living insanely well – so if you wanna get back at a 17 year old girl for the grievous crime of enjoying her life, the best way to do it is to succeed in your OWN existence.
Followers who were outraged by the comments of the original poster, however, must not have taken such a high road because the @kingsysyphus account no longer exists. Smith might have claimed the best revenge is living insanely well, but there are others who probably believe that the best revenge is getting a teenager-targeting troll to delete their account. To each their own!
[image via Instagram]
Have a tip we should know? tips@mediaite.com