Disgruntled Newsweek.com Staffer(s) Anonymously Beg Readers To "Save Newsweek.com"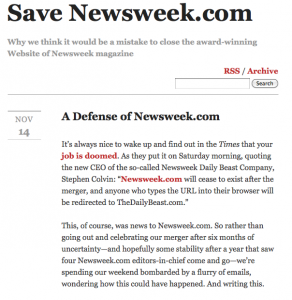 Though the Daily Beast's upcoming merger with Newsweek drew much fanfare and back-patting on all sides when it was announced last week, not everyone is happy about it. In fact, some people are completely opposed to the imminent marriage—people like the staff of Newsweek.com, an entity that reportedly will not exist once the merger takes place.
Yesterday, one or more of those staffers decided to air that discontent the best way they know how: on the internet. Somebody started up a new Tumblr page called "Save Newsweek.com," which as of now has just one post, titled "A Defense of Newsweek.com." The nearly 700-word-long note is a harsh indictment of Newsweek's print staff, the members of which apparently fiddled all summer as the magazine crumbled around them, while their online counterparts worked tirelessly to maintain an award-winning website:
While high-level print editors were taking sleek black towncars to and from the office (and everywhere in between, including, on at least one instance, from DC to New York), this was a staff who slept on grimy couches while reporting on the road; forking out their own funds, at times, just to produce good work. The disparity in work hours, in pay, in resources—it was comical. And it was only telling that not so long ago—let's say five years—one high-level company executive had to be corrected about the Website's URL: no, Newsweek.com wasn't the same thing as the internal Newsweek intranet.

Newsweek.com may have always remained an ugly stepchild to its print grandparents, who were too busy burning money to notice. But it was a team who—despite top-level management turmoil that resulted in a whopping seven editors over the past four years; in the face of wildly-inconsistent business priorities, three redesigns and three different content management systems—consistently produced high quality journalism and multimedia, drawing in audiences far larger than its print counterpart, and double that of the Daily Beast. Over the last five years, Newsweek.com has received dozens of honors for its enterprise reporting, including several ASME nominations. It earned the first Emmy nomination of any U.S. magazine, in 2008. And over the past year, with a staff that's now just just 18 (read it again: eighteen) editorial employees—that means writers, editors, photo and video—Newsweek.com has managed to bring in at least a dozen awards.
Although the Tumblr's name implies that its founders want to do something to save Newsweek.com, the post doesn't end with a link to a petition that can be signed or Tina Brown's email address. Instead, the writer(s) conclude on a note of noble resignation:
Tina Brown is a legend, and we're excited for her, and the future of Newsweek. But if she does make the decision to fold Newsweek.com, here's what we hope everyone remembers.

In the face of indifference, condescension and even outright hostility from its print counterpart; with little to no resources; with more high-level hires and fires over the past couple of years than anybody could possibly count—and a revolving door of editors—the small but tireless staff at Newsweek.com consistently created editorial work that made waves: via a Website, on video platforms, through multimedia, photo and social media. Whatever happens to Newsweek, we are all proud to have played a part in that.
The site has already garnered a lot of attention within the insular Tumblr community; in the 19 hours since it went live, it's attracted 125 "likes" and reblogs at last count. See it for yourself, and if you like what you read, spread the word—maybe the online community actually can help to save one of its members.
Have a tip we should know? tips@mediaite.com