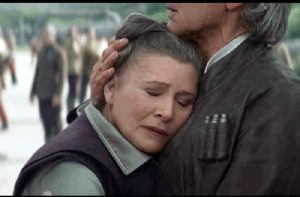 Disney could to receive an insurance payout of up to $50 million because of a policy the company took out on Carrie Fisher in 2012, according to a report from Insurance Insider. The policy covers contract protection in the event that Fisher was unable to fulfill her obligations for upcoming films in the Star Wars franchise. According to the report, this would be the largest single personal accident claim in history.
Fisher had already wrapped filming on Episode VIII, which is set to be released in January 2017, according to reports, but filming on the third of the new movies has not started.
It's unclear how Disney plans to handle the passing of Fisher, who died December 27th at the age of 60 after suffering a heart attack while on a plane. Lots of fans are hoping they won't use CGI in the third film.
dear star wars production team,

please dont CGI carrie fisher in future movies, let her, and her character, rest in peace.

thank you

— ghost cat (@myahxnicole) December 27, 2016
No @Disney we do not want a CGI Princess Leia in future Star Wars movies. Have some respect for the family and loving fans of Carrie Fisher

— Jack Posobiec (@JackPosobiec) December 28, 2016
Man, if they ever replaced Carrie Fisher with some creepy CGI Princess Leia in one of those Star Wars pictures it'd be a damned shame.

— Erik Larsen (@ErikJLarsen) December 27, 2016
RIP Carrie Fisher. :( May your body of work speak for itself and your memory never be resurrected with CGI.

— J. Kenji López-Alt (@TheFoodLab) December 27, 2016
[image via screen grab]
Have a tip we should know? tips@mediaite.com