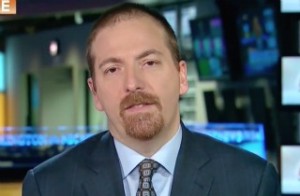 One thing will always be true: When drama comes down the TL, it doesn't matter if it's from two people hashing out petty relationship problems or from major figures in American politics because followers will stop, stare, and start asking questions no matter what.
We learned that last night when MSNBC's Joe Scarborough battled with CBS's former campaign trail workhorse Sopan Deb on Twitter. All eyes were on their accounts as they disputed the facts surrounding reports that Scarborough had attended President-elect Donald Trump's lavish New Year's Eve party.
Political observers wondered what it all meant, in what capacity he had really gone to the party, and whether the feud would turn into something long-lasting. Then, Chuck Todd started tweeting this afternoon and the focus shifted to him. Could he possibly be subtweeting Scarborough and Deb or are these observations about the role of journalists just coming at a very coincidental time?
You're so vain, you probably think this tweet is about you. New Year's resolution for all media (concierge&combative): you aren't the story!

— Chuck Todd (@chucktodd) January 2, 2017
It really stinks to watch others continue help ruin the reputation of your industry. But fighting each other about only hurts the democracy

— Chuck Todd (@chucktodd) January 2, 2017
— Chuck Todd (@chucktodd) January 2, 2017
Kiffin v Saban is a much more interesting side bar shiny metal object story for Twitter to obsess over! Just wait until signing day drama!

— Chuck Todd (@chucktodd) January 2, 2017
Before tweeting a link to Disney's catchy, ubiquitous ode to moving on, "Let It Go,' he retweeted this:
Reasonable 2017 resolutions:
Tweet less.
Report more.
Assume nothing.

— Ben White (@morningmoneyben) January 2, 2017
With references to "shiny metal object [stories] for Twitter to obsess over" and advice for journalists to keep themselves out of the headlines, his tweets certainly read like they're directed at the pair. Since he didn't name them, we may never really know but someone seems to think that the tweets are in response to last night's big battle…
Yes. I find that people misrepresenting others and lying is indeed corrosive. I know you agree with me that facts matter. https://t.co/qnvDt6xwg6

— Joe Scarborough (@JoeNBC) January 2, 2017
If Todd's tweets weren't about Scarborough and Deb, the morning show host doth protest too much, wethinks.
[image: screengrab]
This is an opinion piece. The views expressed in this article are those of just the author.