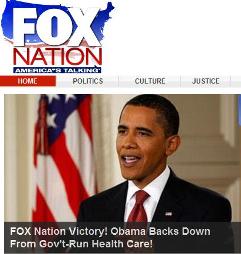 Dispatches from Fox Nation:
It is a celebratory day over at The Fox Nation, where the lead story proclaims a "victory" in the health care debate. What did they win? The double-exclamation mark headline proclaims: "FOX Nation Victory! Obama Backs Down From Gov't-Run Health Care!" So how did the nation do it?
The article links to this AP story, but the pull quote used in the article is actually from this one yesterday. It reads in part:
Bowing to Republican pressure and offering political cover to fiscally conservative Democrats, Obama's administration signaled on Sunday that it is ready to abandon the idea of giving Americans the option of government-run insurance. The shift leaves open a chance for compromise with Republicans that probably would enrage Obama's liberal supporters but could deliver a much-needed victory on a top domestic priority.
Let's put aside for a minute the idea a Fox property, albeit a community/opinion site, is claiming "victory" for a political maneuver. The people who make up the Fox Nation, who could be extended to the town hall disruptors, did certainly have a hand in the White House's decision to at least change the tone of the conversation. It's not a direct corollary, but certainly makes for a good headline.
But not all in the Nation are ready to break-out the balloons and streamers. SashaH40 writes: "No… something else is going on!! I don't trust this mess and think they are doing something else. This is funky and we need to be worried still.. I don't trust them at all!!"
Do you see something of interest at The Fox Nation? Email it to Steve@Mediaite.com…
—–
» Follow Steve Krakauer on Twitter
Have a tip we should know? tips@mediaite.com