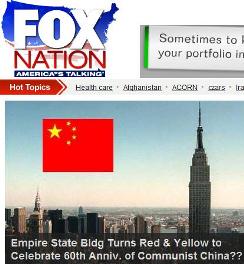 Dispatches From Fox Nation:
There are a couple truths over there in the Fox Nation, Fox News' community/opinion offshoot of Foxnews.com. China and communism are bad. New Yorkers are liberals and part of the problem with this country. Luckily, there has been a story at the top of the site last night and this morning that can cover both bases!
Headlined, "Empire State Bldg Turns Red & Yellow to Celebrate 60th Anniv. of Communist China??" the post links to a short wire story with a similar headline (without the "communist" adjective and the double question marks).
Here's the key part:
New York's iconic Empire State Building will light up red and yellow Wednesday in honor of the 60th anniversary of communist China. The Chinese consul, Peng Keyu, and other officials will take part in the lighting ceremony which will bathe the skyscraper in the colors of the People's Republic until Thursday, Empire State Building representatives said in a statement.
This is apparently very bad, and really just indicative of the direction Pres. Barack Obama (middle name is Hussein, by the way) is taking this great country of ours. The Empire State Building will be red and yellow?! We might as well just hand the whole damn thing over to China right now…
New York City is diverse, with more than 600,000+ Chinese residents. And the Empire State Building frequently is lit to honor other countries – there seems to be significant less outrage when it reflects the colors of Ireland or Italy.
The commenters at Fox Nation dismissed the story as a non-issue in the grand scheme of things, with health care, higher taxes and other priorities being the focus of their dismay. Just kidding! Here's a sampling:
"MHnTX" took the story to its next logical conclusion-
I have never met a statist who wasn't ultimately a thug supporter… next Independence Day, they will probably want to fly the sickle and hammer above the Red, White and Blue too.
"peterd1958" went all caps with his theory-
THE NEXT THING THEY GOING TO ANNOUNCE IS THE TALIBAN HISTORY MONTH & THEY WILL COVER THE STATUE OF LIBERTY WITH A BURKA
Well if those events happen, the Fox Nation will surely be there to cover it.
Do you see something of interest at The Fox Nation? Email it to Steve@Mediaite.com…
—–
» Follow Steve Krakauer on Twitter
Have a tip we should know? tips@mediaite.com