Don Jr. Blasts Bill Clinton For Mistreating Monica Lewinsky, Everyone Reminds Him Who His Father Is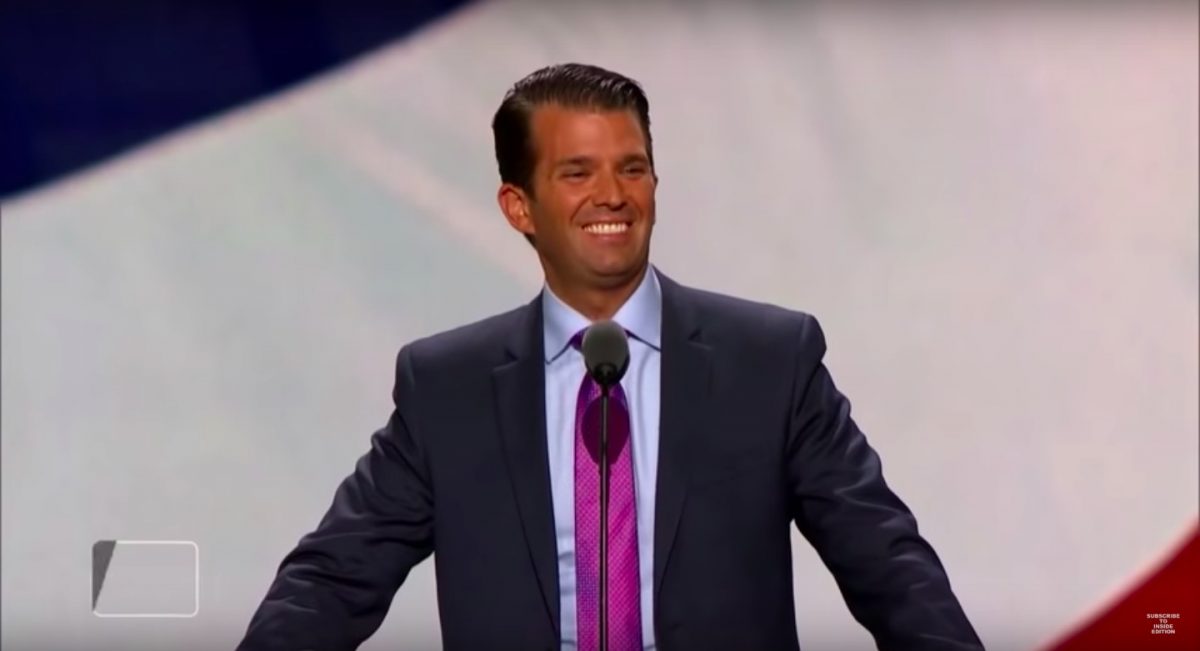 Ah, Donny Jr. The fear-mongering, Skittles-eating, slick-haired Twitter troll who also happens to be the president's eldest son. What kind of trouble have you gotten yourself into this time?
On Monday, Junior clapped back at Bill Clinton for comments the former president made about Monica Lewinsky and the #MeToo movement:
Did Bill Clinton just #metoo Monica Lewinsky??? I (almost) have no words… Props for always being ahead of the curve as the first male to publicly somehow claim victim-hood from his actions against women. Balsy! Stupid… but balsy!!! https://t.co/Fvn7Cp3OmP

— Donald Trump Jr. (@DonaldJTrumpJr) June 4, 2018
Lest we forget – and it's really, really hard to – Don Jr.'s father, the current president of the United States, has more than a dozen women accusing him of sexual misconduct. He has threatened to sue said women, and has come nowhere close to apologizing for his alleged trespasses.
What's that I hear? The sound of a glass house shattering because it's being barraged by stones?
In a manner that only can be described as like-father-like-son, for more than a year you cheated on your wife, mother of your children, and while she was pregnant. Your indignation is only ridiculous. Go away. To jail, preferably, you self-serving douchebag. https://t.co/o9qxf66Q4d

— Laurie Brookins (@StyleWriterNYC) June 4, 2018
he can't even properly spell his insult https://t.co/VvvSCSvOvg

— marisa kabas (@MarisaKabas) June 4, 2018
People who should never comment on #MeToo or anything tied to it —> https://t.co/dn1IKrSxM6

— Emily C. Singer (@CahnEmily) June 4, 2018
Yeah that's enough men on the internet for me today. BYEEEE https://t.co/8P4OOR49C2

— Jessica Valenti (@JessicaValenti) June 4, 2018
In her divorce deposition, your mother accused your father of raping her.
You might want to sit down. https://t.co/LrlouZnw03

— Philip O'Connor (@philipoconnor) June 4, 2018
His father threaten to sue the 19 or so women who accused him of sexual harassment. https://t.co/j82p1ZljHp

— Sam Stein (@samstein) June 4, 2018
Don't you have a deposition to give somewhere? https://t.co/EFHv2zjn0y

— Charles P. Pierce (@CharlesPPierce) June 4, 2018
Is #Balsy the new #Basta? https://t.co/XqAfz90ZnO

— Brett _______ (@BrettRedacted) June 4, 2018
[image via screengrab]
Have a tip we should know? [email protected]