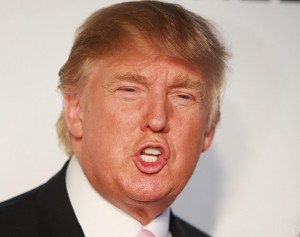 When you think of the ideal statesman, obviously the first person who springs to mind is Donald Trump. Trump has not yet made up his mind about attending the Republican National Convention next month, but he will be in Florida a day before it kicks off to receive a "Statesman of the Year" award from the Sarasota Republican Party.


RELATED: Trump Responds To Maher's Dismissal Of American Exceptionalism: We'd Be Great If It Weren't For Obama
According to msnbc.com, the last recipient of the award was former Mississippi governor Haley Barbour at a ceremony where the keynote address was delivered by Herman Cain. A spokesman for Trump said he is "honored to be the recipient of this prestigious award."
The event, which is doubling as a fundraiser for the Sarasota Republican Party, is being held at the Ritz Carlton, and they are charging anywhere from $150 for general admission to $1000 if you would like a private audience with Trump himself.
But with Trump's attendance at the RNC convention pending, Republicans may be wondering if being so close to the Donald will distract from the issues the GOP wants to talk about and shift to one of Trump's favorite topics of conversation: birtherism. Trump's spokesman insisted he would certainly be willing to play his part when the Republicans are gathered to nominate Mitt Romney.
"It would seem obvious that Donald Trump will play a role in the Tampa convention, as his massive popularity, reflected in this recent award, shows what an asset he would be in making the convention into an even greater success."
h/t CNN
Have a tip we should know? tips@mediaite.com
Josh Feldman - Senior Editor