Everyone Is Convinced That Mike Pence's Daughter Is Either a Vampire or a Ghost
Indiana Governor Mike Pence has only been the presumptive Vice Presidential candidate for a couple of days, so understandably the focus of attention has turned onto the man who is relatively unknown to a national audience.
On Saturday in New York City, the Indiana Governor and his family dined at one of Manhattan's best-known eateries — the legendary Chili's establishment — and shared the following image of his family to social media:
Busy weekend in NY! Enjoying a quick dinner with the family at @Chilis. Looking forward to getting back to Indiana. pic.twitter.com/SUFjYcvQpH

— Mike Pence (@mike_pence) July 16, 2016
"Busy weekend in NY!" enthusiastically wrote Pence while at Chili's, whose sliders-and-margherita special is as well known as the city's pizza and deli sandwiches. However, it's not the food choice has has most people absolutely freaking out this today.
It's the fact that Pence's 23-year-old daughter Charlotte Pence has NO REFLECTION WHATSOEVER.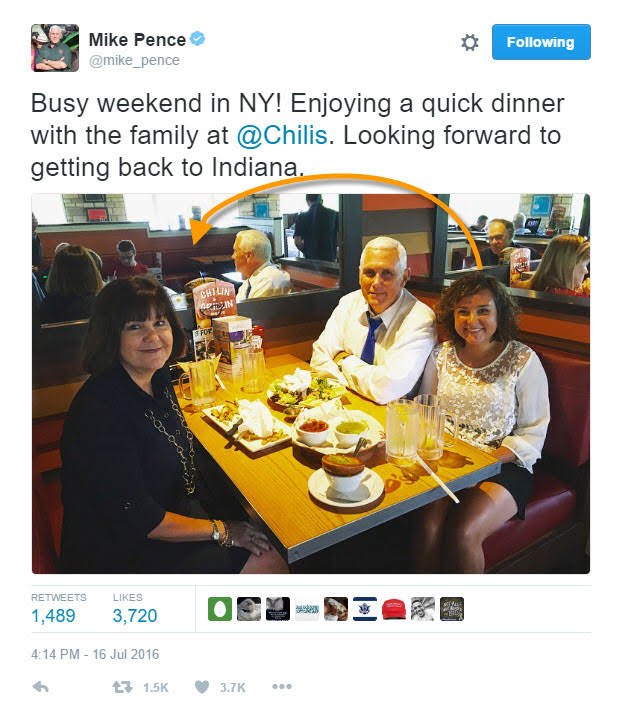 I certainly understand that camera trickery and angles can make things appear strange in photos, but the young DePaul University alum has a big head of curly hair and NONE of it appears in that Chili's mirror.
Was she photoshopped in, to give the appearance of a cohesive family dining together in one of New York's finest restaurants on the eve of the national spotlight? Unlikely in the estimation of this writer; the light glare on the sides of Charlotte and the Governor's faces indicate a consistent light source. So it begs the only logical question left: Is Charlotte Pence a vampire, or is she a ghost?
Many super sleuths have taken to Twitter to weigh in on the debate.
@TheTeditorial Are you going to say nothing about the apparent missing reflection?

— Wall_eyed_squid.png (@RainbowSquidInk) July 17, 2016
@mike_pence @Chilis is your daughter a vampire? I don see her in the mirror!???

— giorgio armani (@giorgioarmani25) July 18, 2016
@mike_pence you forgot to photoshop the mirror. Or is she a ghost?

— Nils (@Nilles1983) July 18, 2016
@mike_pence @Chilis @cheflife206 I'm either tripping, or his daughter is a ghost. She has no reflection in the mirror. #TheHauntedElection

— Mr. Nelson (@Mister_Seattle) July 18, 2016
@mike_pence @Chilis apparently your daughter is a vampire. Sorry, can't vote for you.

— Evil Larry (@shempzine) July 18, 2016
@mike_pence @Chilis is your daughter a vampire??? #no-reflection #fake #shopped

— Eric R Fairhurst (@efairhurst) July 18, 2016
@mike_pence @Chilis the chick on the left of Pence is a ghost…….creepy……

— holly wilson (@hwilson2009) July 17, 2016
It seems as if the mystery of Charlotte Pence: Vampire or Ghost? will continue on unsolved. But my question is… who is the boy in red whose reflection we can see but is strangely absent from the foreground of the shot?
Governor, you're off to a rocky start.
—
[imagea via twitter]
Have a tip we should know? tips@mediaite.com