Exclusive: MSNBC to Issue Statement Officially Severing Ties with Melissa Harris-Perry Today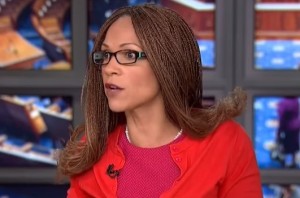 Melissa Harris Perry will officially be out of a television job today.
MSNBC — which signed the the 42-year-old to host her own weekend program almost exactly four years ago — will officially make that announcement today, according to an unimpeachable source. The decision comes after Harris-Perry publicly accused NBC News Chariman Andy Lack and MSNBC President Phil Griffin of pre-empting her program due to racial reasons. Per an email she sent to staff that made its way quickly to the New York Times on Friday:
"I will not be used as a tool for their purposes. I am not a token, mammy, or little brown bobble head. I am not owned by Lack, Griffin or MSNBC. I love our show. I want it back."
Harris-Perry would quickly try to walk back those comments in an interview with the Times, stating: "I don't know if there is a personal racial component," adding, "I don't think anyone is doing something mean to me because I'm a black person."
The Wake Forest Professor of Politics and International Affairs and columnist for The Nation has been upset that her program was pre-empted for two weeks (prior to this one) due to the network's decision to focus much more heavily on the 2016 political campaign. Harris-Perry was supposed to host her show again this weekend (February 27 and 28) primarily to cover the Democratic South Carolina primary Saturday and preview Super Tuesday today (along with covering any other campaign-related news), but declared she would not do so on Friday due to editorial differences.
"Here is the reality: our show was taken — without comment or discussion or notice — in the midst of an election season. After four years of building an audience, developing a brand, and developing trust with our viewers, we were effectively and utterly silenced. Now, MSNBC would like me to appear for four inconsequential hours to read news that they deem relevant without returning to our team any of the editorial control and authority that makes MHP Show distinctive."
RELATED: Harris-Perry Throws Away TV Career, Petulantly Plays Race Card From Bottom of the Deck
In terms of audience, MHP ranked fourth (our of four) cable news programs in the month of January in the key 25-54 demo, and has consistently posted poor ratings throughout its existence.
"This reaction is surprising, confusing and disappointing," a network spokesperson said Friday, adding that Joy Reid — who had her weekday program cancelled last year but was kept by the network to perform other duties, will anchor in Harris-Perry's spot instead this weekend.
No other on-air anchors, hosts or contributors who have also been pre-empted have openly complained outside of Harris-Perry.
One note to add: The fact MSNBC is moving so quickly on this… to the point the network is releasing a statement on a Sunday… illustates how quickly the bridge between host and management was burned. The network could have waited until Monday or simply suspended her while trying to figure out how best to handle the situation while working out remaining terms on her contract, but MSNBC is moving forward today to put this behind them as quickly as possible. Harris Perry's timeslot will be filled with an unnamed program — more than likely continued political coverage — until an official replacement is found.
Ms. Harris-Perry could not be reached to comment on this story.
Note: The Washington Post's Paul Fahri exclusively reported Saturday night MSNBC would part ways with Harris-Perry, but could not provide a date when the official announcement would be made by the network.
3:00 PM EST Update: An MSNBC spokesperson has just confirmed to me directly that Melissa Harris-Perry and MSNBC are parting ways.
— —
Follow Joe Concha on Twitter @JoeConchaTV
This is an opinion piece. The views expressed in this article are those of just the author.