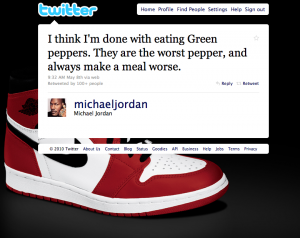 Today the Internet yielded a fantastical, magical heretofore-mostly-unknown discovery: the Michael Jordan Twitter feed. Is it really Michael Jordan? Surely not, as it is unverified and has been around for almost two years. Is it hilarious? Pretty much, yeah — which leaves us shaking our heads as to how it has been around for almost two years without completely blowing up.
Yes, it has over 100K followers but, come now — we've seen how funny Twitter accounts blow up. Look at BPGlobalPR. Look at Sockington. Look at Sh*tMyDadSays. And then — look at @MichaelJordan and wonder: How did it take so long for us to hear of it??
It started today with a tweet by Aziz Ansari, retweeted by Michael Hirschorn. Suddenly the glories of @MichaelJordan were apparent to me (Rachel) and subsequently apparent to me (Glenn). And then, from all (or, at least, our) corners of the Twitters, the refrain came and kept coming: OMG I love this, is it real, how long has it been around?
Answer: Since Dec. 22, 2008 — a Twit-ernity — and solidly hilarious throughout, if picking up steam in recent months. "I don't think I need to try any new fruit. I've had enough different kinds for now." "I'm so sick of using batteries." "I had a dream last night about lots of cats and enormous rabbits in a barn." "Why doesn't anyone go on picnics anymore?" Each one a gem, more so as imagined coming from the tall, tall brain of one of basketball's biggest superstars.
What makes the feed even more amazing is the question of: how have Jordan's people – or Twitter itself – not destroyed this account? Don't get us wrong, we are very happy that "Jordan" gets to keep regaling us with thoughts on food (especially root beer), astronomy, and "A Serious Man," but considering that the account name is just @michaeljordan, and the listed name is "Michael Jordan" (giving no indication that this isn't really Jordan), the account seems ripe for a banning under Twitter's rules for parody.
And if that weren't enough, there are these two tweets expressing doubts about Nike. For a reminder of just how intertwined Nike and Jordan are, check here. Considering the many well-known stories (see #2) of Jordan going to great lengths to avoid publicly wearing anything but Nike, and it's pretty clear that a tweet – even an obviously fake one – expressing misgivings about Nike's human rights record probably wouldn't fly with Jordan himself, or any member of the Nike empire.
Hopefully, though, "Jordan" continues unscathed, no matter how unlikely that is. From the dangers of too much coffee to the dark side of the Olympics, "Michael Jordan" is one of the most clever tweeters we've come across, and it would be a shame to lose "him." (And he's even environmentally conscious!)
»» NEXT: Some of fake Jordan's finest musings.
Have a tip we should know? tips@mediaite.com