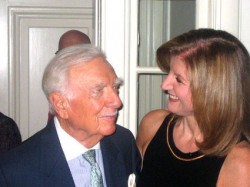 One of the ancillary stories springing from celebrity deaths lately is "how were they covered on Twitter?" What was the reaction? Did it crack Twitter's "trending topics"? Did it break the Internet?
Well, in the case of Walter Cronkite's death this past Friday, there was another question: You spelled it how?
On Twitter, Friday night saw the legendary anchorman's name spelled "Walter Kronkite" by so many people that it became one of the site's trending topics. (The Huffington Post has a screengrab.) An Examiner article spelled it "Cronkite" in the headline but "Kronkite" in the lede; at the Calgary Sun, that was reversed.
On the fourth day since his death, after all sorts of coverage in print, on TV and online where the correct spelling would presumably have been used, "Kronkite" is still returning a healthy stream of results on Twitter. There is also a #Kronkite hashtag. (Says one Tweeter using it, who knows better: "Wish we could trust Twitter like we could trust #Kronkite." Ha. Indeed.)
Over at the Huffington Post, they have a nice little exclusive: Cronkite blogged for Arianna Huffington just a few days after the site first launched (concluding with the rather adorable, "See you on the Blog!"), and submitted two other posts, about global warming and and the war on drugs. Over the weekend they played up links to those posts. But as the website where I first saw the trending Twitter story, I couldn't help but double-take when I clicked on over and saw this: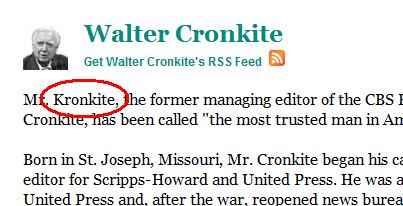 As someone who worked there (and works here!), I know damn well how many balls they have to juggle and, more to the point, that is clearly a typo that has gone unnoticed since sometime in mid-2005. But even so, that's the way it is.
Photo of Arianna and Walter Cronkite found in a Google image search for "Walter Kronkite" and subsequently discovered to have been taken by fellow ex-Fishbowl-er Dylan Stableford at a book party for Arianna, which I also attended. So, I was once at a party with Walter Kronkite.
Have a tip we should know? tips@mediaite.com