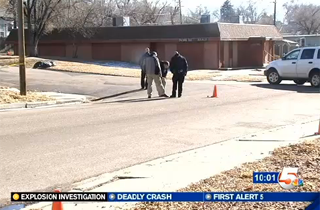 Authorities announced today that an explosion at an NAACP building in Colorado was caused deliberately, and are on the lookout for a potential suspect.
According to the LA Times, an improvised explosive device was placed on the outer wall of the NAACP's chapter headquarters and detonated early Tuesday morning, though the damage to the building itself was minimal. A red gasoline canister was placed next to the bomb, but did not ignite.
No one was injured, though there were people in the same building at the time who witnessed the explosion. One of them, barbershop owner Gene Southerland, was at work when the explosions occurred:
"I made sure my three customers were OK, then walked outside," Southerland said. "On the northeast side of the building I saw a red gas can on the ground. Neighbors started walking out of their houses asking me, 'What happened, what happened?'"

"It's messed up, man. It's horrible," Southerland said. "In broad daylight? Just goes to show there's always a threat."
According to the FBI, the suspect is a "balding white man in his 40s who may be driving a dirty pickup truck," which "could have an open tailgate or a missing or covered license plate."
NAACP chapter president Henry Allen Jr. told KOAA that the suspect may have deliberately targeted the civil rights organization. "That is making some people uncomfortable, so therefore they feel the need to target," he said.
Watch below via KOAA:
KOAA.com | Continuous News | Colorado Springs and Pueblo
[LA Times]
[Image via screenshot.KOAA]
— —
>> Follow Tina Nguyen (@Tina_Nguyen) on Twitter
Have a tip we should know? tips@mediaite.com