Harvard Professor Ranting About Chinese Food Leads to Yet Another Journalism Scandal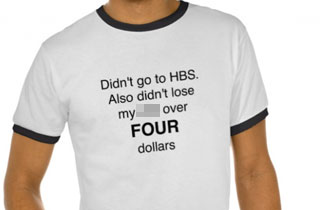 Who knew that the funny story about a Harvard professor flipping out at a Chinese restaurant owner over $4 would have such an intense fallout? The latest casualty: Two writers for Boston.com were allegedly told to leave the newsroom for secretly recording an all-hands meeting addressing the controversy, then leaking the audio to another Boston news organization.
Initially, Boston.com came under fire for two things: first, running a followup story in which they claimed Harvard professor Ben Edelman sent a racist email to the store's owner only to find that it had possibly been faked; then, demoting Boston.com's acting editor Hilary Sargent for selling a t-shirt mocking the person she had been covering.
And the story didn't end there, as Capital New York reports:
On Thursday, Dec. 11, reporters and editors gathered in the newsroom for the company's weekly all-hands meeting. The meeting was led by general manager Corey Gottlieb, who took full responsibility for the decision to publish the story about Edelman's racist emails.

But the following day, a program on local public broadcaster WGBH ran a segment about what had happened at Boston.com, during which the station revealed that it was in possession of an audio recording of the Boston.com all-hands meeting.

The show, a popular program about the media business with a Boston-area focus called "Beat the Press," led with a debate about the retracted story and Sargent's tweet about the T-shirt. The segment included a Gottlieb quote taken from leaked audio, but did not include the leaked audio itself.
"We should say that we have a tape recording of their editorial meeting, which we opted, by the way, not to put in our piece, because we thought it was journalistically unethical, so we didn't include it," "Beat the Press" host Emily Rooney explained on air.
One of the writers escorted out of the newsroom, breaking news editor Doug Saffir, had recently given his two weeks' notice to accept an offer as a BuzzFeed fellow. BuzzFeed told Capital New York that they had rescinded Saffir's offer. (The other writer, David Stewart, is expected to return later this week.)
As a reminder: this entire thing started over four dollars.
[Capital NY]
[Image via screenshot]
—
>> Follow Tina Nguyen (@Tina_Nguyen) on Twitter
Have a tip we should know? tips@mediaite.com