Fired Aide Bashes Scott Walker's 'Olympic-Quality Flip Flop' on Immigration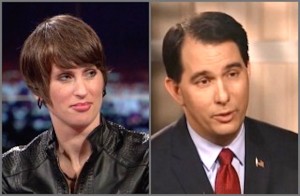 In an email obtained by Mother Jones, former Scott Walker aide Liz Mair took the potential GOP candidate to task for what she called an "Olympic-quality flip flop" on immigration.
Let's back up. Mair was hired as Walker's social media consultant last month after Walker's nascent campaign took off thanks to an enlivening performance at the Iowa Freedom Summit. She was resigned-fired the next day after tweets of hers emerged criticizing Iowa's role as the GOP primary gatekeeper, especially how it pulled candidates to the right on immigration. Mair had supported comprehensive immigration reform while the Senate worked on a bill in 2013.
Sure enough, Walker — who had formerly been a vocal proponent of immigration reform — had just changed his stance on certain key measures of comprehensive immigration reform, coming out against what he now called "amnesty" — the exact sort of rightward pull Mair had criticized.
RELATED: By Ousting Liz Mair, Scott Walker Panders to the Wrong Part of the Right
Yesterday Walker laid out a possibly more hardline stance* on the issue, signaling he might consider addressing legal immigration rates, which would put him to the right of most of his party. Mair was having none of it, sending out an email reminding Walker of the fate of the last GOP candidate who so blatantly switched positions:
"Setting aside the substance of the policy, as the 2008 election demonstrated, it is really difficult in the age of Google to execute full policy reversals without earning a reputation as an untrustworthy, "say anything to win," substance-and-guts-free politician. Even in 2012, when Republicans nominated Mitt Romney, his reputation for policy, er, flexibility was a significant negative for him and one that diminished enthusiasm for the candidate, probably adversely impacting his performance in that race."
* It's been difficult to track Walker's exact position on immigration, thanks to, well, this. Washington Post's Greg Sargent, for one, believes Walker is more inline with the establishment GOP view on immigration reform than his rhetoric suggests.
[h/t Mother Jones]
[Image via screengrab]
——
>> Follow Evan McMurry (@evanmcmurry) on Twitter
Have a tip we should know? tips@mediaite.com