MLB Manager Goes on Epic Tirade Against Media; Drops 77 F-Bombs in 5 Minutes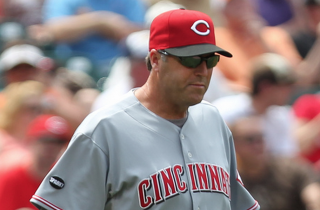 When it comes to legendary spittle-flecked rants from Major League Baseball managers, this one might take the cake. After Monday evening's victory over the Milwaukee Brewers, Cincinnati Reds manager Bryan Price took issue with a reporter's question about why the team's catcher hadn't traveled with the team during their weekend stint in St. Louis. The result was a five-and-a-half-minute tirade loaded with 77 f-bombs and several references to fecal matter.

Cincinnati Enquirer reporter C. Trent Rosecrans posted the entire transcript online, but here's just a snippet of what Price had to say about the media and their question-asking ways:
It's nobody's f****** business. It's certainly not the opponent's business. We have to deal with this f****** b*******. I like to talk — and I have spoken as candidly as I can with you people, if that's not good enough, I won't say a f******thing. I'll go, 'yes sir, no sir.' And I can do that. But f***, I've been as candid as I can f****** be about this team and our players, and we've got to deal with this s***, every f****** team that we f****** play has to know every f****** guy that's here and what they can and can't do? F*** me. It's a f****** disgrace. I'm f****** sick of this s***. It's f****** hard enough to f****** win here to have f****** every f****** opponent know exactly what the f*** we bring to the table every day. It's f****** horse****. I don't like it. It's what I'm saying. To make it very clear, I don't like the way that this s***'s going — at all. I don't like it. I don't think you guys need to know everything. And I certainly don't think you need to see something and tweet it out there and make it a f****** world event. How the f*** do we benefit from them knowing we don't have Devin Mesoraco? How do we benefit from that? They benefit from it. I just want to know how we benefit from these f****** people know we don't have a player here. Can you answer that? How is that good for the Reds?
Price also complained that the media's need to ask questions is "making my job f****** harder," according to the transcript.
And then his rant continued with this lecture on the state of sports journalism:
Your job is not to sniff out every f****** thing is about the Reds and f****** put it out there for every other f****** guy to hear. It's not your job. You want me to be candid with you? I've been candid with you. I f****** talk to you guys like men, I tell you what the f***'s going on with the team, I tell you how I'm feeling as candidly as I can and then this s***? You've got to watch this f****** s***? I've got to f****** read that on a f****** Tweet on our own people in here that we don't have a f****** player? How the f*** does that benefit the Reds? It doesn't benefit us one f****** bit. God **** we try to go out there and win f****** games and I got to come in here and then you guys f****** blow it all over the f****** place? Who we can play? Who we can't? I'll tell you what you want to know, I'm not going to f****** lie to you. I didn't tell you f****** s***.
Got that? Oh, and there's more. Lots more.
After the transcript became national news, the manager released a statement through the Reds' official Twitter account:
Bryan Price – "In my pre-game conversation with reporters yesterday, I used wholly inappropriate language to describe….

— Cincinnati Reds (@Reds) April 21, 2015
…. the media coverage of our team. While I stand by the content of my message, I am sorry for the choice of words."

— Cincinnati Reds (@Reds) April 21, 2015
Now, you're likely asking: Is there audio of the rant? Yes, there was. As Deadspin pointed out, Enquirer staff originally promoted the audio clip — and then it was later removed from the Gannett website under mysterious circumstances. But, of course, intrepid readers managed to rip the clip before it was deleted. Listen to a portion below:
[Image via Keith Allison/Flickr]
— —
>> Follow Andrew Kirell (@AndrewKirell) on Twitter
Have a tip we should know? tips@mediaite.com