FiveThirtyEight, HuffPost Destroy Idea of 'Secret Majority Supporting Obamacare'
Rothman: FiveThirtyEight, HuffPost Destroy Idea of 'Secret Majority Supporting Obamacare'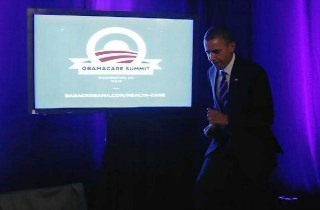 On Thursday, a USA Today/Pew Research Center survey confirmed what most already know: the Affordable Care Act is not popular. 50 percent of respondents in that survey said they continue to disapprove of the ACA compared with 37 percent who approve of the law. That is largely stable from that survey's results last month which found 53 percent disapproving and 41 percent approving of the ACA.
In fact, Pew's results are consistent with other polls which have found broad disapproval of the law since it's passage in 2010. Today, the Real Clear Politics average of opinion polls shows the ACA remains unpopular with an average of 52.2 percent of the public compared with an average of 39.8 who approve.
No matter, some of the ACA's supporters say. For within those surveys that persistently show the public disapproving of the law lay secret subsets of respondents who, when added together, reveal that majorities actually adore the health care reform law.
"If one combines the segment that wants a more liberal approach to health care reform with those who approve of the law, a plurality of Americans view health care change favorably," declared the New York Times' Allison Kopicki on the day the ACA's troubled online presence went live last October.
Based on a November CNN survey which asked respondents who say they oppose the law why that is the case, MSNBC.com analyst Steve Benen declared that, in spite of the fact that 58 percent said they oppose the law, the ACA is secretly beloved. "In other words, as the CNN analysis explained, 54% of the country either supports Obamacare, or say it's not liberal enough," he exclaimed.
Riffing off a CNN poll released in the following month, The Daily Beast's Jamelle Bouie came to a similar conclusion. "Indeed, when you look at the full results, you see an electorate that either supports Obamacare or wants a more liberal alternative," he wrote.
CNN has even courted the liberal following their unique method of surveying opinions on the ACA has resulted for them. In a March polling release trumpeting support for the ACA "edging up" from December (from 35 to 39 percent), CNN indulged in a little punditry themselves.
"Thirty-nine percent say they oppose the law because it's too liberal, but 12% say they oppose it because it's not liberal enough," CNN's polling director Keating Holland said.
"That means half the public either favors Obamacare, or opposes it doesn't go far enough," the poll's release clarified.
Never mind that these liberal pundits are engaging in precisely the same tactics they chided conservatives for during the 2012 election cycle — combining disparate results or discounting inconvenient findings in order to "unskew" surveys in order to arrive at a preferred conclusion. Leaving that delicious irony aside for a moment, some accomplished polling analysts recently put the notion that the ACA is actually popular to the test. They found that, unsurprisingly, this is not the case.
Recently, partnering with the polling firm YouGov, Huffington Post polling analyst Mark Blumenthal attempted to duplicate CNN's method of divining support for the ACA among those who do not support the ACA. To clarify CNN's findings, he performed one extra step. "In your own words," HuffPost asked select respondents, "what do you mean when you say the health care law is not liberal enough?"
"[V]ery few said they opposed the law because they would prefer a 'single payer' system (6 percent of those answering) or would prefer either the 'public option' or an alternative to ensure "healthcare for all" (4 percent)," Blumenthal revealed.
A much larger portion of the not-liberal-enough group referenced high costs (15 percent), the mandate to purchase health insurance (12 percent), or more general complaints about a lack of choice or too much government control (13 percent).
"I don't think forcing everyone to buy insurance is liberal at all," one respondent told Blumenthal.
"Liberal means choice to me at least and it leaves us no choice, we are forced to buy insurance we may neither need or want," another said.
These are not promising results for the set of ACA supporters who had convinced themselves they were members of a new silent majority. But the fatal blow to this happy theory came from statistical guru Nate Silver's outlet, Five Thirty Eight. On Thursday, analyst Harry Enten observed ACA supporters have not only misread polling results that show some say the ACA is not liberal enough, but they have also misconstrued polling results which show ACA does not go "far enough."
"The 'not far enough' group has been read as opposition from the political left," Enten wrote. "But in the Democracy Corps survey, 13 percent of Republicans said Obamacare didn't go far enough in changing health care. Only 4 percent of Democrats said the same.
The ABC News survey was more evenly split, but there was still no major Democratic opposition. Nine percent of Republicans and 8 percent of Democrats said the law didn't go far enough, according to ABC News.
For most, the ACA is, in fact, unpopular. To the extent that this fact remains murky to some, the Pew survey released this week indicates that it will become clear as day in November.
"In the survey, taken after President Obama announced a surprising 7.1 million Americans had signed up for health care through the law's exchanges, more than eight in 10 registered voters say a candidate's stance on the law will be an important factor in determining their vote," wrote USA Today's Susan Page. "A 54% majority call it very important."
"By 2-1, those who rate the issue as very important disapprove of the law," she continued. "That means it is more likely to motivate opponents than supporters to vote — a critical element in midterm elections when turnout often is low."
For ACA supporters, the silver linings in opinion surveys — manufactured or otherwise — are rapidly melting away.
[Photo via Jonathan Ernst / Reuters]
 — — 
> >Follow Noah Rothman (@NoahCRothman) on Twitter
Have a tip we should know? tips@mediaite.com