Forget Hendrix, Was Obama Quoting Muhammad Ali When He Said Critics 'Talk About Me Like A Dog'?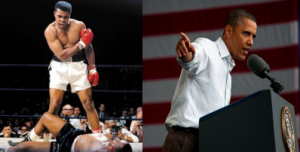 Is President Obama a Mad Men fan? On Monday Obama gave a fiery Labor Day speech during which he accused the Republicans of talking about him "like a dog."
Some powerful interests that have been setting the agenda in Washington for a long time, and they're not always happy with me. They talk about me like a dog. That's not in my prepared remarks, but it's true.
Yesterday, Yahoo reported that the Obama may have pulled that line from an old Jimi Hendrix song.
Though Obama didn't acknowledge it, the line was a verbatim quote from "Stone Free," the first song Hendrix wrote after moving to England in 1966. "They talk about me like a dog," the song says. "Talkin about the clothes I wear. But they don't realize they're the ones who's square."
However the origin of the line may precede Hendrix. Barry Popik of the blog The Big Apple has dug up evidence that the line may belong to Muhammad Ali who "bellowed" it during a press conference 20 days before his famous knockout of Sonny Liston in their May 25, 1965 rematch.
The boxer Muhammad Ali (Cassius Clay) prepared for a rematch against Sonny Liston in May 1965. "They gonna talk about me like a dog when I lose, so when I win I let them all know it," Ali said to the press.
Via Popik:
5 May 1965, Lewiston (OK) Constitution, pg. 32, col. 2:
Clay Keeps Mouth Shut
Early In The Morning
By MILTON RICHMAN
CHICOPEE, Mass. (UPI)—You have to get up early in the morning to catch Cassius Clay with his mouth shut.
(…)
Back at his training quarters, Clay had a leisurely breakfast and then lounged until a press conference was scheduled in mid-day.

"…They gonna talk about me like a dog when I lose, so when I win I let them all know it," he bellowed, his eyes rolling wildly.
Fascinating. So, was Obama quoting Ali or Hendrix? Who's to say. As Peggy Olson noted in a previous episode of Mad Men sometimes you "get stuff stuck in your brain and don't know where it's coming from." HOWEVER. As fans of Mad Men well know, the backdrop to this Sunday's (stellar) episode of Mad Men was the very Ali vs Liston fight that Ali was preparing for when he made his "talk about me like a dog" remarks. Is the President a fan? Was he inspired?
Admittedly, it's probably a coincidence — Ali's remarks were not mentioned in the episode. But like all things Mad Men perhaps the analogy needs some further parsing.
At the time of the fight Ali had only recently changed his name from Cassius Clay to Mohammed Ali after converting to Islam (imagine him trying to pull that off in this day and age), though the episode makes the point that the country hadn't fully embraced his new moniker yet (everyone refers to him as Clay). As we all know, Obama has also struggled with his own name issues since entering the public spotlight.
In 1965 Ali was still in the early-ish stages of his career (this was a year before he refused the draft, and nearly ten before his famous bout with George Foreman in Zaire) and was known as much for his mouth as for his fast dancing feet. Says Don Draper: "He's got a big mouth: 'I'm the greatest.' Not if you have to say it." Sound at all like certain criticisms of Campaign Obama? Meanwhile, everyone expected Liston to win the fight. Said Draper, complimenting Liston: "Liston just goes about his business. He works methodically. Clay will dance and talk and throw a few until he's wiped out." So maybe President Obama is more like Liston, merely going about his business while the GOP dances and talks and throws a few. All of which leaves us with the question: Come November who is going to get knocked out? Watch the original knockout below.
Have a tip we should know? tips@mediaite.com