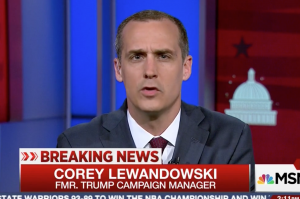 While former Donald Trump campaign manager Corey Lewandowski has been mum as to why he was let go on Monday, another former aide to the real estate mogul has revealed that attacks on Judge Gonzalo Curiel may have led to his firing.
Lewandowski told CNN's Dana Bash on Monday following his firing, "I don't know," when pressed to identify why he lost his job managing the campaign that exceeded every imaginable expectation. Yesterday, Michael Caputo — who lost his own position in the Trump camp after Tweeting out a celebratory ding-dong-the-witch-is-dead joke after Lewandowski's ousting — claimed that the recent hot water over Judge Gonzalo Curiel led to the campaign manager's firing.
In an interview with Kilmeade and Friends, Caputo indicated that the campaign's attack on the Judge's heritage was a major faux pas. Judge Curiel is overseeing the Trump University fraud case, and the Republican presumptive nominee called into question the Judge's bias given his Hispanic background. At the time, Trump called it, "an absolute conflict," a move that generated blowback of sorts even from House Speaker Paul Ryan.
Caputo said:
"I think that we saw it just in the drop in the polls. We saw it in the lack of traction he was getting on his message… This judge has no business being on any kind of review of Donald Trump's Trump University. Absolutely, there's no question, but Donald Trump knows how to distill messages all the way down to the razor sharp points you'd see on a billboard."
"I think that there are a lot of lessons learned all around. I think the leadership change came out of that as well. And you're gonna see a whole different campaign going forward," he continued.
—
[h/t Buzzfeed Politics]
Have a tip we should know? tips@mediaite.com