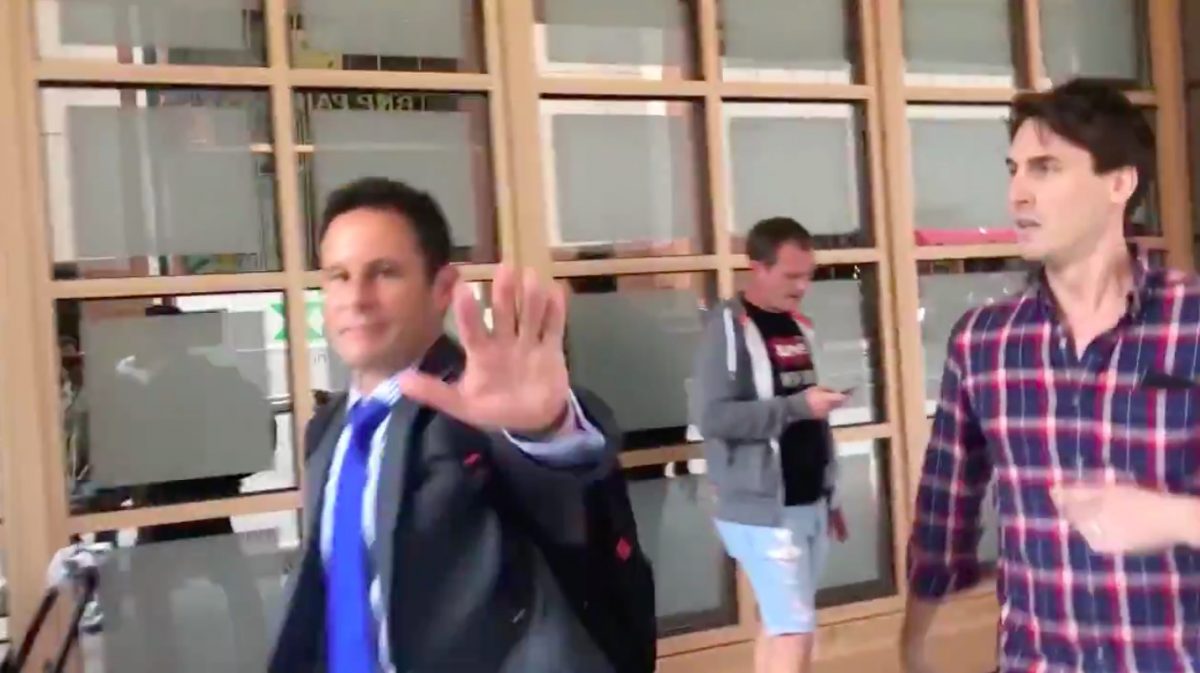 A pair of activist comedians followed around Fox & Friends host Brian Kilmeade, lobbing hostile questions at him on Friday. If you are a public figure after all, you may get questions with or without a camera when you are walking down a public street (in fact, Mediaite has used a roving paparazzi in the past as well).
But they didn't stop there.
Jason Selvig and Davram Stiefler, who are known as "The Good Liars," then trailed Kilmeade into a NYC subway and encouraged fellow passengers to jeer at him in what increasingly felt like a potentially perilous situation for the Fox host.
It started with Selvig posing for a selfie with a smiling Kilmeade. But it was clearly a set-up, with Selvig then asking Kilmeade if he was "accused of sexually harassing Gretchen Carlson." It turned ugly from there.
Selvig follows Kilmeade through Midtown, repeatedly calling after him, and noting that his "backpack is on crooked."
He eventually follows Kilmeade onto the subway where Stiefler makes an appearance, announcing the Fox News host to the crowded car.
"Hey everyone, this is Brian Kilmeade, he says lots of weird, kinda racisty stuff on the news a lot," Stiefler says.
"This is the closest personal adviser to Donald Trump, the Fox & Friends host Brian Kilmeade," Selvig adds. "If you have anything you want Donald Trump to say or do, tell this guy cause he's the only person in America that Donald Trump listens to." (While it's true that Fox & Friends is the president's morning fare, Kilmeade is the one host of the three who has been willing to criticize and/or question the president's actions.)
One straphanger yells "He's a career criminal, he's a traitor, he should go to hell!"
"Brian did you get that?" Selvig asks.
"Stop grabbing pussies!" a man yells, echoing Trump.
While Kilmeade cooly ignores the jeers, he was effectively trapped in a subway car with two people encouraging random New Yorkers to go after him. To understand the potential safety issue, those who lean left should just substitute two right leaning comedians stalking and heckling Rachel Maddow or Stephanie Ruhle, in a more right leaning town, in a confined public space, encouraging them to insult and jeer at them.
The duo then follows Kilmeade off the subway, and to a Jamba Juice where Selvig offers Kilmeade $10 to tell Trump to resign on Fox & Friends. Kilmeade, by this point on the phone, continues to ignore the badgering. Fortunately no one got hurt, although the incident may lead Kilmeade, or any other public political figure, to think twice about taking public transportation.
UPDATE: The video has been taken down.
Have a tip we should know? tips@mediaite.com
Aidan McLaughlin - Editor in Chief