Fox News Contributor Mocked For Wearing Tiny Tactical Vest to Border: 'Totally Ridiculous'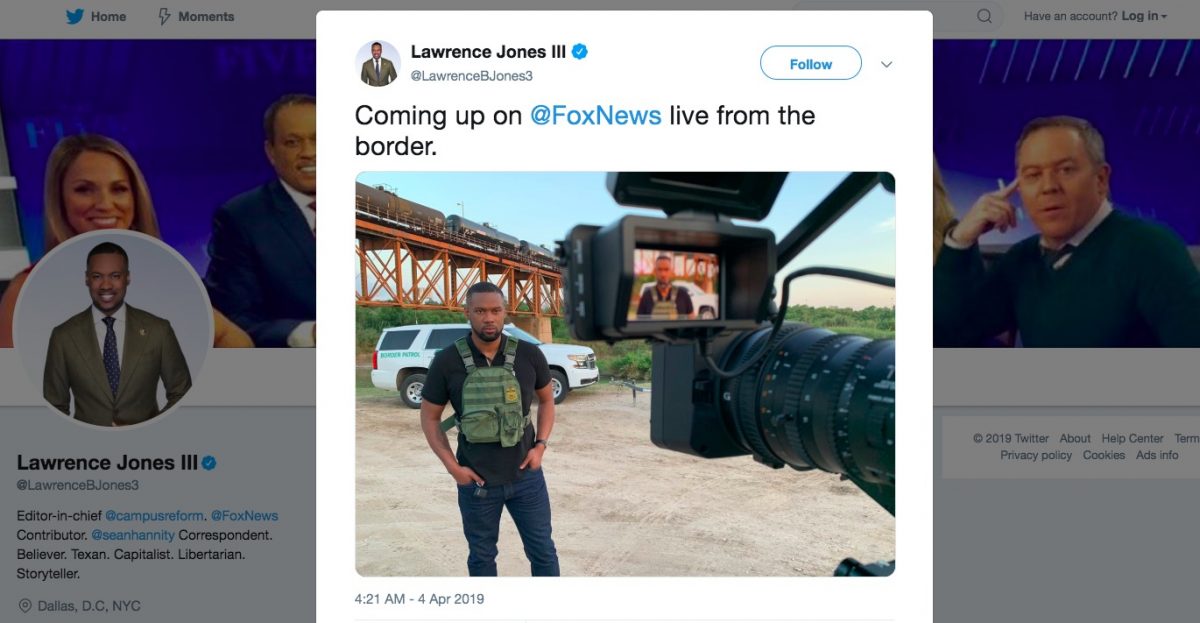 Fox News contributor Lawrence Jones was viciously mocked on Twitter Thursday after he shared a picture of himself wearing a tiny tactical vest while reporting from the U.S.-Mexico border.
"Coming up on @FoxNews live from the border," Jones tweeted along with the image of him decked out in OD green gear with a law enforcement emblem on it.
Coming up on @FoxNews live from the border. pic.twitter.com/aRlNQxrO1x

— Lawrence Jones III (@LawrenceBJones3) April 4, 2019
Jones brushed off criticisms of his bold fashion statement by claiming Border Patrol "required" he wear the vest during his "ride along" with the agents.
"Did I say it was a war zone or did you ignorantly assume that because I was wearing a vest?" Jones said in one of his dozen responses to critics. "Bottom line: CBP instructed me to put on one of their vests during my ride along. Period."
Border patrol made me wear it. Now, who's the fool? https://t.co/8ytTDLATth

— Lawrence Jones III (@LawrenceBJones3) April 4, 2019
However, MSNBC's Jacob Soboroff — who covers the border frequently — called the tactical accessory "totally ridiculous" and said he has never been asked to wear one during his coverage with Border Patrol.
This is totally ridiculous.

I have never once worn a bulletproof vest at the border, nor has CBP ever asked me to — even while on a chase with Border Patrol to apprehend migrants in remote Arizona desert in the middle of the night.

Because. The. Border. Is. Not. A. War. Zone. https://t.co/Q1V95e7N5x

— Jacob Soboroff (@jacobsoboroff) April 4, 2019
Mediaite contacted U.S. Customs and Border Protection to explain the need for Jones' vest but did not receive a response in time for publication.
Other Twitter users turned the picture into memes, mocked the get-up as "cosplay," and questioned why a Fox News contributor would be given a vest with a law enforcement agency's emblem on it in the first place.
Check out a few of the best responses below:
The meme game on this post's replies is spectacular

(Nota bene: There has never, ever been any requirement or need to wear a flak jacket at the US-Mexico border, and nobody's ever heard of a reporter doing so at any time) https://t.co/AoJsPy4uox

— Doug Saunders (@DougSaunders) April 4, 2019
1. Next time you might want to buy the vest from the adults section.

2. That's a decorative prop, not a functional piece of protective gear. https://t.co/PjN8Wk0YQJ

— Benjamin Allbright (@AllbrightNFL) April 4, 2019
"You weren't on Operation Hastings, Payback. You weren't even in country." https://t.co/eeFOnTB2eh

— Thomas Gibbons-Neff (@Tmgneff) April 4, 2019
What is this? A vest for ants? https://t.co/WW5SfBkR1n

— Jessica Luther (@jessicawluther) April 4, 2019
Why is a Fox News reporter wearing a tiny bulletproof vest with a federal government logo on it? https://t.co/OxWOYATzlN

— Blake News (@blakehounshell) April 4, 2019
I can only assume that Lawrence Jones is giving an impassioned defense of the merits of cosplay https://t.co/HI1rUZMnn0

— Jared Holt (@jaredlholt) April 4, 2019
— Parker Molloy (@ParkerMolloy) April 4, 2019
— jordan (@JordanUhl) April 4, 2019
With Syria? https://t.co/Lk1GF3Drx9

— Schooley (@Rschooley) April 4, 2019
— Joe Kassabian (@jkass99) April 4, 2019
That is a huge fanny pack. https://t.co/oFh6sUNDzx

— Tyler Grant (@TyGregoryGrant) April 4, 2019
— Dusty Giebel (@DustinGiebel) April 4, 2019
thank you for your service https://t.co/57fQFXppwo

— Christian Vanderbrouk (@UrbanAchievr) April 4, 2019
Have a tip we should know? tips@mediaite.com