Fox News Most-Watched Basic Cable Network This Year; MSNBC Second Highest in Primetime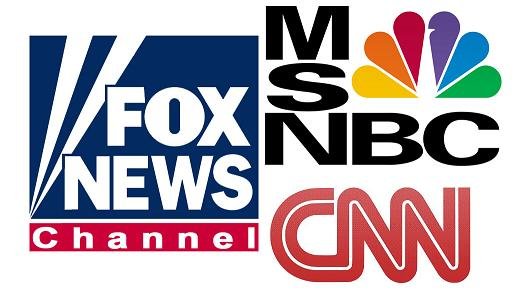 We've now reached the end of the year and the numbers are in for the cable news networks. And after a crazy and frankly unprecedented year of news, all three of the major cable news networks — Fox News, CNN, MSNBC — have something to be proud of in 2017.
Fox News enjoyed its second straight year as the most-watched network in all of basic cable in both total day viewers and primetime. The channel averaged 2.4 million viewers in primetime and 1.5 million overall. In the key 25-54 demographic, FNC's numbers were 488,000 in primetime and 321,000 for total day. Fox News saw a 15% bump in the total day demo from the previous year.
In terms of individual programs, Hannity was the top dog in all of cable news. The primetime program averaged 3.2 million viewers and 661,000 in the demo. Both numbers showed double-digit gains from last year. Morning stalwart Fox & Friends pulled in a total of 1.6 million viewers, up 25% compared to 2016. Meanwhile, Tucker Carlson Tonight, taking over for longtime 8 PM ET staple The O'Reilly Factor, ended the year as the second most-watched program in total audience by pulling in 2.7 million viewers.
Over at MSNBC, the network was the second most-watched network in all of basic cable in primetime. It was the network's best year ever in primetime as it pulled in an average 2.1 million total viewers. In the key demo, it attracted 466,000 viewers, which was 9th overall in basic cable. The channel saw huge growth year-to-year, as it witnessed a 55% bump in total viewers and 43% growth in the key 25-54 demographic.
As far as individual shows, based on MSNBC's big primetime increases over 2016, it would be fair to guess that The Rachel Maddow Show was a key to that success. The program finished the year averaging 2.5 million total viewers while snagging 586,000 in the coveted demographic. The Last Word with Lawrence O'Donnell also had a huge 2017, as it also surpassed the 2 million mark in total viewers while posting the best ever ratings (in total and demo) for MSNBC in the 10 PM time slot.
CNN also jumped into the top 10 in basic cable ratings, ranking seventh in total day viewership. 2017 was CNN's highest ever rated year in total day viewers in both overall audience and the key demo. In primetime, the network had its second best year since 2008 in both metrics. The network also was top in the 25-54 demo on Sundays from 12 PM to 1 AM and Saturdays at 1 PM to 6 PM.
As far as specific programs, The Lead with Jake Tapper finished 2nd in both the demo and total audience in its timeslot. CNN Tonight with Don Lemon showed the best growth among CNN primetime shows as it increased 22% in the demo and 17% in total viewership.
[image via Fox News/CNN/MSNBC]
—
Follow Justin Baragona on Twitter: @justinbaragona
Have a tip we should know? tips@mediaite.com