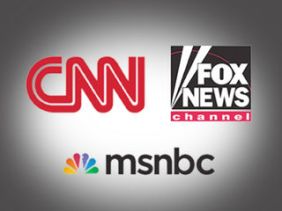 This year's annual State of the News Media, put together by Pew, is a comprehensive look at the entire media world.
But let's take a look at the cable news section – and the all-important race between Fox News, CNN and MSNBC.
• It is clear CNN declined not only in viewership (as evidenced by the chart below as well) but also in the comprehensive way it covers the news:
In one key demographic — 25-to-54-year olds — CNN fell behind a more ideological MNSBC in prime time audience, a prospect unthinkable even two years earlier. For the first time in years, CNN also cut back on newsgathering, its primary competitive advantage over its rivals.
• We all know how strong FNC's ratings are, but when it comes to making money, they are surpassing the competition as well:
Fox surpassed CNN in profit and revenue, as well, and was closing in fast in the amount it can charge for advertising per thousand viewers, after years of having to discount the price of its ads.
• More on money-making:
CNN and HLN remained static, not necessarily a bad thing given the challenges facing other media in 2009. Profits (up 1% to $475.5 million) and revenues (down 1% to $1.18 billion) were basically flat, as was overall news investment (down 2.5% to $703.4 million)….[FNC's] profits (up 19% to $534.8 million) and revenues (up 14% to $1.21 billion) grew substantially. The channel's news investment was up 10% to $674 million…[MSNBC's] profits rose 1% to $149.6 million, on revenues that were similar, up less than 1% to $368 million. As a consequence, MSNBC is expected to have spent roughly the same amount, $217.9 million, on newsgathering in 2009 as a year earlier.
In other words, CNN, HLN, MSNBC – flat. FNC – up big.
• One area CNN still is holding strong as the #1 cable news outlet – the web:
In 2009 CNN was the leader among the three cable news brands according to Hitwise, one of the major Web audience measurement companies. Its site, CNN.com, was relaunched in the fall, and registered even more traffic in the months following.
• But at the end of the day, isn't it about the viewers? Here's a look at the 2009 viewership for CNN, Fox News and MSNBC: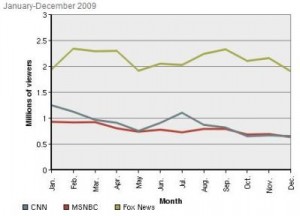 Wow. And for the sake of comparison – here's the 2008 chart: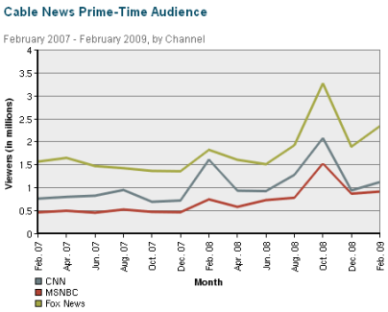 Yeah, not really a race anymore is it?
—–
» Follow Steve Krakauer on Twitter
Have a tip we should know? tips@mediaite.com