Fox's James Rosen: Obama Admin. Has 'Authoritarian Impulse,' Animus Towards Me and Fox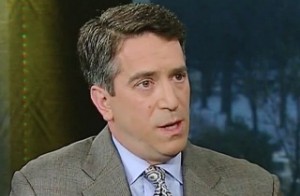 Three years ago, Fox News reporter James Rosen was at the center of a major Obama administration story when it turned out the DOJ had been monitoring him and tracking his movements over potential secret government information he received on North Korea. Fox was rightly outraged, and this set off a major discussion about how the Obama administration treats the press.
Well, Rosen was at the center of yet another administration controversy in the past few weeks. In December 2013, Rosen grilled then-State Department spokeswoman Victoria Nuland over the Iran deal, and she insisted that there were no secret bilateral talks with Iran. There were, and Rosen discovered that the video had been edited to remove that particular remark. At first, the State Department said it was a glitch, but weeks later they admitted it was done purposely.
Rosen kept the pressure on, and this week he sat down for an interview with Business Insider about his personal experience dealing with this administration.
He said he was very disturbed by the edit and the initial denial, because "to tamper with that archive is a very serious offense."
But in talking about the Obama administration's overall relationship with the press, Rosen got much tougher:
Rosen said that the administration's dogged pursuit of leakers demonstrated an "authoritarian impulse" that he hadn't experienced in other administrations.

"There's no doubt that the Obama administration has maintained an animus towards Fox News and specifically towards me across the two terms," Rosen said.
And on top of all that, given what he went through after the DOJ news came out years ago, it's perhaps no surprise that Rosen went on to say, "I can tell you as an objective fact that the conduct of the Obama administration, from the president on down towards Fox News, has far exceeded anything that Richard Nixon ever did to the Washington Post."
Wow.
You can read the full interview here.
[image via screengrab]
— —
Follow Josh Feldman on Twitter: @feldmaniac
Have a tip we should know? tips@mediaite.com
Josh Feldman - Senior Editor