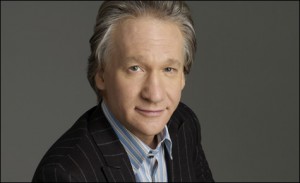 Bill Maher is now a part-owner of the New York Mets. Yes, the outspoken comedian and HBO host announced today he has purchased a minority stake in the baseball team, making him officially a "New Partner." Maher, who proudly professes to be a lifelong Mets fan, decided to go ahead with the purchase after learning the majority owners were selling ownership in order to cover the team's debt.
RELATED: Bill Maher Slams Romney On Twitter: A 'Rich Dick' Who 'Spent $122 Million To Win The Nomination'
Maher released a statement earlier today explaining why he decided to throw his hat into the baseball field, so to speak.
"First of all, I think it's a great investment," Maher said. "People sometimes forget that there's only one National League franchise in New York City and they're not making anymore. I'm a Met fan my whole life and I think it would be a great place."

Neither Maher nor Mets officials would comment on the percentage of his ownership piece or how much he paid for it.

The 56-year old Maher — who was raised in River Vale — said that he never intended to buy a piece of a sports franchise. That changed after seeing newspaper stories about the Wilpon family offering up minority ownership portions of the team due to the Mets debt, as a result of their associations with jailed Ponzi scheme orchestrator, Bernard Madoff. Maher, who lives in Los Angeles, began to become interested in purchasing a piece of his favorite baseball club.
Maher denied he would have that much involvement in working with the team, making it clear his role is simply just to "bring… luck to the team."
h/t NJ Star-Ledger
Have a tip we should know? [email protected]
Josh Feldman - Senior Editor