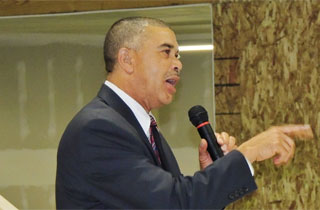 A long, long time ago — June 19th, 2014, to be exact — Rep. Alan Grayson (D-Fla.) proposed an amendment to a Department of Defense appropriations bill that would stop the Pentagon from giving high-grade military weapons to local and state police forces. The House of Representatives voted on it, and it failed, 62 to 355.
Ironically, as the Washington Post pointed out, Rep. William Lacy Clay, a Democrat who represents Ferguson, MO, voted for the bill.
To be fair, he was one of the 355 congressmen who voted against the amendment, and the indifference towards the demilitarization amendment was fairly bipartisan. (According to the roll call, 145 Democrats voted against the amendment, along with 210 Republicans.) But considering the prominent calls to revisit this issue, and Sen. Carl Levin (D-MI) vowing to review the program as the chair of the Senate Armed Service Committee, we're betting this is going to change soon — especially given that the events in Ferguson are the textbook case of Why Giving Military-Grade Weapons to Police Is Bad.
(We've reached out to Rep. Clay's office for a statement.)
For the curious, these are the types of weapons that the Pentagon's 1033 program would be unable to give local police, had the Grayson Amendment passed:
"Aircraft (including unmanned aerial vehicles), armored vehicles, grenade launchers, silencers, toxicological agents (including chemical agents, biological agents, and associated equipment), launch vehicles, guided missiles, ballistic missiles, rockets, torpedoes, bombs, mines, or nuclear weapons."
Hold on, what?
guided missiles, ballistic missiles, rockets, torpedoes, bombs, mines, or nuclear weapons
As if it couldn't get worse.
UPDATE (1:42 PM EST): In a statement, Rep. Clay directly addressed his previous vote and his forthcoming actions:
Over 350 Members of Congress voted against Mr. Grayson's amendment, and I was among them. I don't regret the vote.

But I strongly object to a tactical police unit pointing military sniper rifles and automatic weapons at my unarmed constituents who were peacefully exercising their constitutional rights.

I will be meeting personally with Secretary of Defense Hagel to discuss the overmilitarization of local police and my very serious concerns about the transfer of surplus military equipment to local law enforcement agencies.
[The Washington Post]
[Image via Facebook]
—
>> Follow Tina Nguyen (@Tina_Nguyen) on Twitter
Have a tip we should know? tips@mediaite.com