Gallup Poll: Americans Rank Reagan, Lincoln, Clinton As Greatest Presidents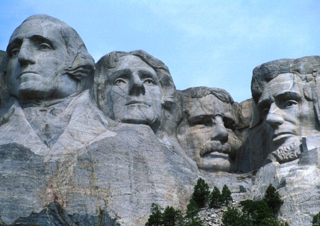 In a deafening blow to institutional memory, a new Gallup poll asking Americans to rank their favorite presidents finds the nation's favorite presidents mostly to have lived within their lifetimes, with three of the top five having served during the second half of the 20th century. This year, Ronald Reagan won the top spot, with Abraham Lincoln, Bill Clinton, John F. Kennedy and, straggling behind, George Washington rounding out the top 5.
Gallup organizes the "greatest president" poll every year to commemorate President's Day, and this year's results, while not atypical, highlight how partisan and personal the selection of a favorite president can be:
This "greatest president" question is open-ended, meaning that respondents are asked to name a president off the top of their head. This type of measurement tends to increase the mention of recent presidents. Democrats, for example, are most likely to name Clinton — the most recent Democratic president not currently in office — as greatest. Republicans, in slightly different fashion, tend to skip over the two most recent Republican presidents, the two Bushes, and instead are most likely to choose Reagan.
The pollsters highlight the issue of name recognition and a bias towards recent presidents by looking back to a poll from 50 years ago, which exhibited similar trends in terms of when a president served in relation to his ranking. Franklin Roosevelt's place on the top of the list, for example, has been usurped almost completely in 50 years, and at one point in time (namely, when he was an incumbent), Dwight Eisenhower got the top spot. But things have stabilized over the last decade, with either Lincoln, Reagan, or Kennedy being ranked highest every year in the past twelve– something partisans on both sides will likely attempt to spin to their side.
Does Reagan's victory mean impending doom for the Democrats in 2012? Does the fact that Clinton ranks at all tell us all we need to know about these torrential times– namely, in the sage words of James Carville, "it's the economy, stupid"? Does the fact that George Washington– the man who set the precedent for transfer of power and declined to be made king– ranks so low on the list mean Americans are unrelenting about wooden dentures? Probably not. But if there is a lesson to be learned from this poll, it's that while Americans may be flighty on their good memories, they'll never forget the bad– Richard Nixon, after all, still received the least percentage of votes.
Have a tip we should know? tips@mediaite.com