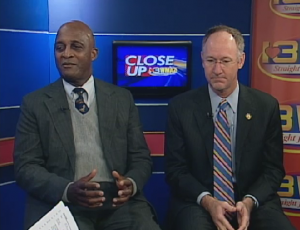 There's a pretty bizarre brouhaha going on down in Georgia politics this week. Tuesday morning, Sen. Robert Brown and State Rep. Allen Peake appeared on a morning show where Brown made a comment about Republicans needing to keep their "white sheets" for a "midnight meeting." Peake accused Brown of implying he and his colleagues were KKK members and asked for an apology. Yesterday, Brown held a press conference and gave a whopper of an apology. He wasn't implying they were Klan members, but rather that the white sheets were motel sheets since Republicans have so many "sexual trysts."
The original encounter took place during 13WMAZ's Close-Up morning program. Brown and Peake were being asked a question about Democrats who switched parties after the last election. Here's his original comments (transcription from Macon.com):
"Two or three days prior to an election, I've had people say, 'My wife came home from church, and there was this flier that they were putting out saying I'm a baby killer.' And then, in less than three weeks after the election, this guy goes over to the Republican Party, the folks who had called him a baby killer. I mean, what does the wife do then, put on some red sheets on the bed and say 'You know we can get rid of the blue sheets, but keep the white one over there because we might need that one for the midnight meeting.'"
On the show, Peake laughed off the comments but, perhaps realizing the leverage it may cause, was soon calling for an apology:
"If Sen. Brown was referring to me, or any of my Republican colleagues, or any party switchers, such as my good friend Bubber Epps, as having any association with the Ku Klux Klan, I find that very, very offensive and hope that he would apologize for such a vicious statement"
Thursday, Brown called a press conference to make a "major political announcement." When he arrived, he handed reporters a written statement entitled "Robert Brown's Modest Response to Rep. Peake's Apology Request." He had two "specific responses" for Peake; that the Representative could have asked him for clarification in private but didn't and that he wasn't referring to the KKK in any way.
From the statement which you can read in full here (link is a PDF):
"When I referred to the bed sheets and meetings, I was thinking of the sexual trysts many Republicans have either been found guilty of or alleged to have participated in while serving in state government. It is 'inside base ball' to joke about Republicans displaying an image of Christian purity until they reach the 'white sheets in their meetings at hotels with pyts/lobbyists.'"
Wow. As if this couldn't get any weirder. A man has been arrested for physically assaulting a photographer outside of the press conference. While it's a slow news week in most of the country, they clearly don't take breaks in Georgia.
Watch the video of the original Close-Up comments from 13WMAZ below:
(h/t Breitbart.tv)
Have a tip we should know? tips@mediaite.com