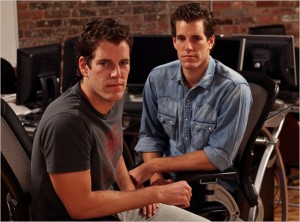 The impossibly rich, handsome, and athletic Tyler and Cameron Winklevoss are busy twins. They're publishing party photography sites, taking courses at Oxford, and rowing in preparation for the 2012 London Olympics. Oh, and they're still fighting Mark Zuckerberg over Facebook, as they have been for six years now.
"It shouldn't be that Mark Zuckerberg gets away with behaving that way," Cameron told the New York Times, who again delved into the legal battle between Facebook and the brothers Winklevoss—the same one you might remember from Aaron Sorkin's The Social Network.
"The principle is that they didn't fight fair," Tyler added. "The principle is that Mark stole the idea."
That's the story they've been sticking to since their days at Harvard, when they first accused Zuckerberg of cribbing the idea for their site Harvard Connection (later ConnectU) and turning it into TheFacebook (now Facebook). The Winklevii did in fact reach a settlement with Team Zuckerberg some time ago but are now experiencing what Facebook says is "settlers remorse."
Their argument is that Facebook deceived them about the value of the shares, leaving them with far less than they had agreed. Whatever their value at the time of the deal, Facebook's shares have soared since, putting the current worth of the settlement, by some estimates, at more than $140 million.
There simply aren't enough millions of dollars to sate these bros. You can check up on their past, present, and future struggles with Facebook over at the Times.
Have a tip we should know? tips@mediaite.com