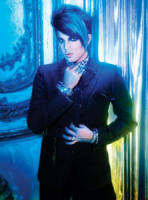 The Gay &  Lesbian Alliance Against Defamation says ABC's decision to put Adam Lambert into performance exile is not because of homophobia but because he won't follow directions, giving cover to the network from critics who say the ban from the Jimmy Kimmel Live and ABC's New Years Rockin' Eve show is due to Lambert's homoerotic antics at the American Music Awards.
"It would appear that the kiss between Adam Lambert and his keyboardist did not factor into ABC's decision," GLAAD's president Jarrett Barrios said in a joint statement with ABC. "ABC has a history of positive gay and transgender inclusion that includes featuring kisses between gay and lesbian couples on-air."
GLAAD appears to have bought the network's argument that Lambert's act at the AMAs was different from what he'd done during rehearsals and they just can't risk a Federal Communications Commission sanction. But many people think the network is overreacting and that focusing on Lambert's man-on-man behavior smacks of a homophobic double standard that isn't applied to women-on-women behavior or heterosexuals.
Barbara Walters, who will feature Lambert on her end-of-the year "Most Fascinating People" special on ABC, said on The View Dec. 3 that the concern about FCC fines was what caused the exile, but fellow panelists?including Joy Behar and Whoopi Goldberg?pointed to other examples where women like Madonna had been sexual on stage without repercussions from the networks.
GLAAD's announcement was greeted with skepticism by some who believe ABC's exile was caused by homophobia. "Amazingly (or perhaps not), GLAAD seems to have fallen for it hook, line, and sinker," a blogger at AfterElton said about ABC's FCC excuse.
The news of the ABC performance ban came after Lambert tweeted Dec. 2 that "Yes, sadly friends, ABC has cancelled my appearances on Kimmel and NYE. :( don't blame them. It's the FCC heat."
The concern over an FCC fines appears to come from a complaint filed by Liberty Counsel, which describes itself as "dedicated to advancing religious freedom, the sanctity of human life and the traditional family." The complaint by the group with a long history of anti-gay rhetoric and litigation was filed Nov. 24 against ABC for "airing an outrageously lewd and filthy performance" where Lambert "simulated oral sex, simulated digital penetration, simulated sadomasochistic conduct and engaged in homosexual open-mouth kissing."
The ABC Ban was discussed on The View yesterday:
Have a tip we should know? tips@mediaite.com