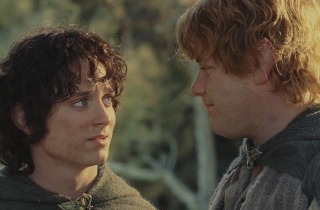 Glenn Beck is away from his radio show this week, but he still took to Facebook to opine on the shooting of two NYPD officers and, somehow, link it to the hobbits from The Lord of the Rings.
Beck first wondered why President Obama didn't immediately stop what he was doing to address this issue in the same way he did in the cases of Michael Brown and Eric Garner. And what bothered him most of all was a lack of willingness to "call good by its name and the same with evil."
Most cops are good people, he said, so the solution is to root out the bad ones, not condemn all of them without question.
But then Beck brought up The Lord of the Rings and said this:
Maybe it is just me, but has anyone thought of the hobbits as us, the Americans? Maybe this has been written about and I am being obvious, but I see their innocence, belief that the world isn't bad, that things will be better, that the "shire" is a special place and it is isolated and protected from the outside evils and I wonder, did JRR T see them as us?
The parallel here, for Beck is that "none want to be the one selected to bear the burden of the ring. But we must."
You can read the full post here:
[image via screengrab]
— —
Follow Josh Feldman on Twitter: @feldmaniac
Have a tip we should know? tips@mediaite.com
Josh Feldman - Senior Editor