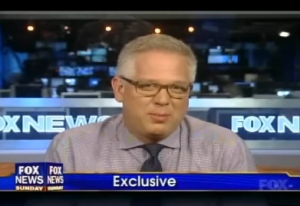 Following his Restoring Honor rally yesterday Glenn Beck appeared on Fox News Sunday this morning to talk with Chris Wallace. Wallace has been giving some tough interviews of late, and today was no exception.
During the lengthy interview, Wallace grilled Beck on the Martin Luther King controversy and asked how exactly Beck intends to "reclaim" the Civil Right movement. He also played the Fox & Friends clip during which Beck declared President Obama to be a racist, and additionally asked him if sees himself as someone whose responsibility it is to "save this country?" "Don't you?" responded Beck. All in all, made for an interesting interview, particularly as we don't get to see Beck on the opposite side of the couch all that often.
Wallace also asked Beck if he had any political intentions, and pressed him about rumors he and Sarah Palin might consider a joint presidential ticket. Answer: He is not, they are not, and he doesn't think Sarah Palin is presidential material, though he doesn't say so in so many words.
Not a chance. I don't know what Sarah is doing. I hope to be on vacation. I have no desire to be president of the United States. Zero desire. I don't think that I would be electable. And there are far too many people that are far smarter than me to be president. I'd like to find one with some honor and integrity. I haven't seen them yet, but they'll show up.
Beck also noted that he'll have some crowd numbers soon from his own aerial estimates and that it will likely be in the hundreds of thousands. You can watch the full interview below.
Have a tip we should know? tips@mediaite.com