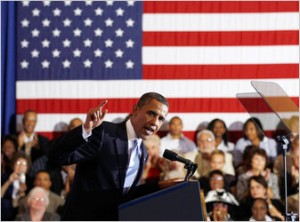 President Obama and family flew from Martha's Vineyard to day directly to New Orleans to mark the fifth anniversary of Hurricane Katrina. In a half hour speech made at Xavier University under gray skies (according to Twitter) and following a shrimp po boy for lunch (also according to Twitter), Obama touched on both Katrina, its aftermath, and the states current struggles due to the BP oil spill. The remarks were perhaps most notable for their almost total lack of partisan politics. A sad rarity these days.
Obama spent much of the speech detailing what the city has overcome in the aftermath of Katrina and commending the strength of its residents.
Five years ago, many questioned whether people could ever return to this city. Today, New Orleans is one of the fastest growing cities in America, with a big surge in new small businesses. Five years ago, the Saints had to play every game on the road because of the damage to the Superdome. Well, two weeks ago, we welcomed the Saints to the White House as Super Bowl champions. We marked the occasion with a 30-foot po'boy made with shrimp and oysters from the Gulf. There were no leftovers.
After which he asserted his administration's commitment to the city.
Of course, I don't have to tell you that there are still too many vacant and overgrown lots. There are still too many students attending classes in trailers. There are still too many people unable to find work. And there are still too many New Orleanians who have not been able to come home. So while an incredible amount of progress has been made, on this fifth anniversary, I wanted to come here and tell the people of this city directly: my administration is going to stand with you – and fight alongside you – until the job is done.
He also addressed the BP Oil spill.
We are going to stand with you until the oil is cleaned up, the environment is restored, polluters are held accountable, communities are made whole, and this region is back on its feet.
Watch Obama's full remarks below.
Have a tip we should know? tips@mediaite.com